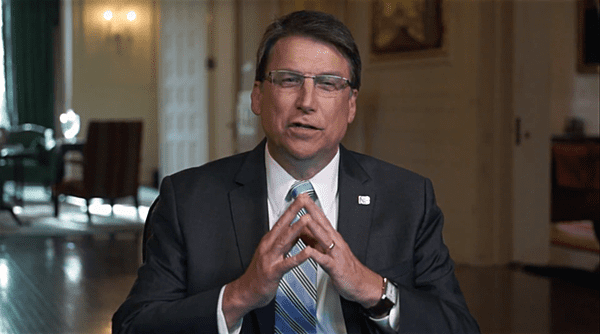 A new poll out from SurveyUSA for Raleigh's WRAL shows that the anti-LGBT law Governor Pat McCrory signed may be affecting his poll numbers:
HB2 may be…taking a toll on incumbent Republican Governor Pat McCrory, who signed HB2 into law 3 weeks ago, and who now finds himself trailing Democratic challenger Roy Cooper, the state's attorney general, 43% to 47% among likely 11/08/16 voters. McCrory has a Minus 4 Net Job Approval Rating today: 43% of voters approve of the job he is doing as Governor, 47% disapprove. Cooper has a Plus 28 Net Job Approval Rating today: 53% of voters approve of the job Cooper is doing as Attorney General, 25% disapprove. Compared to a 03/08/16 SurveyUSA WRAL-TV poll, McCrory's job approval is largely unchanged, but Cooper has gone from Plus 18 five weeks ago to Plus 28 today.
The last Survey USA poll conducted on this race showed McCrory with a 2 percentage point lead.
Cooper, of course, has been a vocal opponent of HB2 from the get-go, and has said he won't defend the law.
Cooper yesterday spoke out about McCrory's executive order:
.@PatMcCroryNC's executive order is a day late and a veto short. Read my full statement here: pic.twitter.com/8LksJFW9tX

— Roy Cooper (@RoyCooperNC) April 12, 2016
With regard to the bill itself:
Today, 38% support the new law, 50% oppose. Support for the law is greatest among strong Republicans, 62%; among very conservative voters, 61%; and among evangelicals, 53%. Opposition to HB2 is greatest among strong Democrats, 72%; very liberal voters, 84%; liberals, 80%; people who almost never attend religious services, 62%; and among voters who say they know someone who is transgender, 61%. A majority opposes HB2 in greater Charlotte and greater Greensboro, a plurality opposes HB2 in greater Raleigh and in Southern and Coastal NC.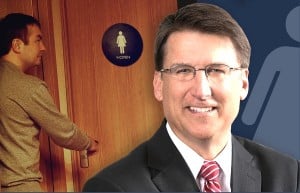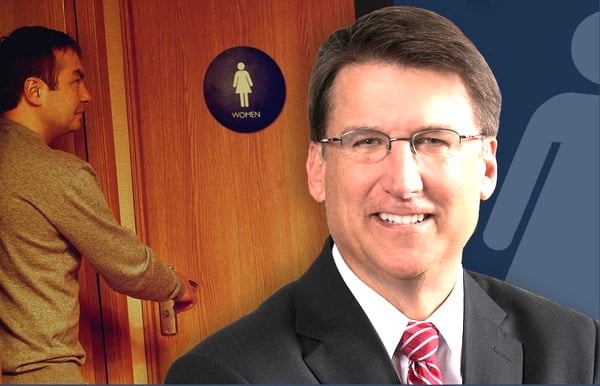 But the numbers also show that North Carolinians have bought into the right-wing trans predator bathroom nonsense:
56% of North Carolinians agree with the provision of the law (46% strongly agree) that requires transgender individuals to use the bathroom of their birth, and not the bathroom of their choosing. 56% say that allowing a transgender individual to use the public restroom of their choice does pose a security risk for women and children.
Despite that, they believe trans people should be protected from discrimination:
Those provisions notwithstanding, a majority in NC (52%) say gay, lesbian, bisexual and transgender individuals should be protected against discrimination, versus 36% who say LGBT individuals should not be protected. The younger you are, the more likely you are to say LGBT individuals should be protected by law against discrimination. Those who attend church regularly are divided on the issue, 44% in favor, 45% against.
Large majorities see how the bill is hurting business in North Carolina.
61% of Tar Heel voters say HB2 has hurt North Carolina's image nationally. Just 18% say HB2 has helped the state's image. The same number, 61%, say that HB2 has hurt North Carolina's ability to attract and keep businesses. Just 11% say the law has helped the state attract and keep businesses, 19% say it has had no impact. At this hour, 37% of voters say the law should be repealed in its entirety, 20% say most of the law should repealed but the bathroom provision should remain in place, 19% say other changes are needed and the smallest group, 18%, say the law should be left in place "as is."