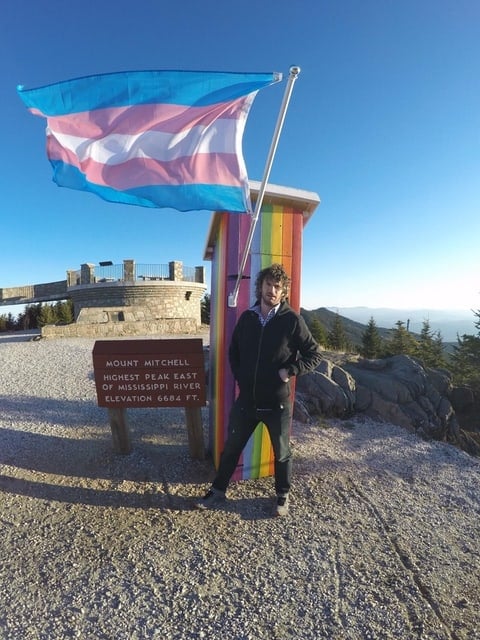 Neal Gottlieb is a name which might ring a bell for some longtime Towleroad readers. He'll also be familiar to many as a contestant on this season's Survivor: Kaoh Rong. This morning he made a colorful statement in protest of North Carolina's anti-LGBT law, the so-called "bathroom bill" HB2.
I proudly placed a rainbow-painted outhouse displaying a trans pride flag at the summit of North Carolina's tallest mountain this morning in protest of the state's repressive HB2 legislation. It was a brilliant site. The follow letter was nailed to the front of the outhouse and calls out the governor for the crap has become known as the "bathroom bill."
Governor McCrory,
As of this morning, an outhouse proudly displaying a trans pride flag is sitting atop Mount Mitchell, North Carolina's tallest mountain. It was placed there in protest of HB2, your state's institutionalization of discrimination (also known as hate) against members of the trans community (also known as humans). Yes, at least for a little while, North Carolina's highest point is an outhouse; a fitting symbol for a state that has sullied itself with shitty, repressive legislation.
You still support HB2, claiming it is for the people's safety, but we all know this is just a load of crap. Government-back discrimination has no place in just societies. Soon enough HB2 will be reversed and your legacy will be skid marks in North Carolina's history.
Of course you can admit that you sh-t the bed, reverse HB2 and wipe away the mess this harmful legislation leaves behind. We all make mistakes. Please stop dumping on freedom and admit your wrongs. We'll all feel much better when this passes.
Trans is beautiful.
Equality is beautiful.
Love wins.
Neal H. Gottlieb
Now why should Towleroad readers be familiar with Gottlieb?
Back in 2014 we wrote about a similar protest he undertook in Uganda, where he climbed to the top of Uganda's highest mountain, Margherita Peak, and planted a Gay Pride flag there "in protest of Uganda's recent criminalization of homosexuality."
Today is two years to the day since his Uganda protest. What a great way to mark the occasion.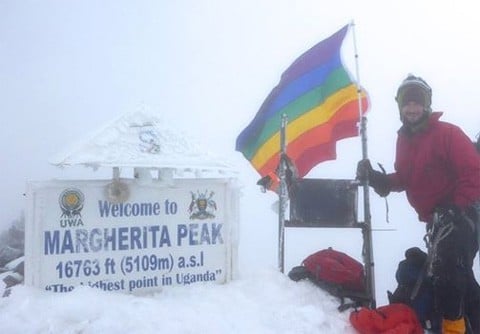 He left a similar letter for President Museveni.
And he took the Pride flag with him as a special item to Survivor.
Why my #Survivor emo item pride flag? Reminder proudest moment & honor #lgbt community @tlrd https://t.co/AOw2ZApBf5 pic.twitter.com/wF8kQMrhOw

— Neal Gottlieb (@nealhgottlieb) March 2, 2016
Gottlieb is also the owner of Three Twins Ice Cream and lives in Sausalito, California. It's sold in all 50 states so if you happen to see it buy a pint and show him some support.
Way to go, Neal!