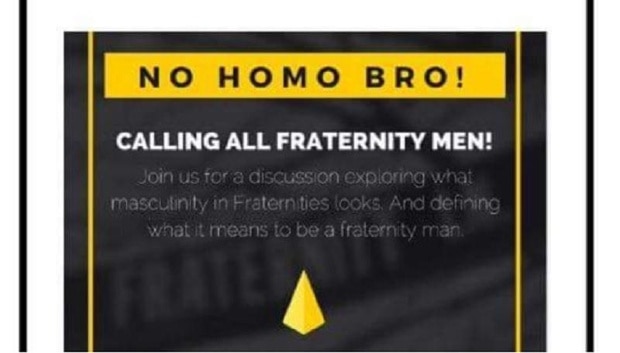 "No Homo Bro!" That was the subject line used by the University of Central Florida's Office of Fraternity & Sorority Life in an email to students to promote a meeting about diversity and gender.
The email was sent on Thursday and reportedly read, "Calling All Fraternity Men!"
"That was terrible wording," said Felipe Pardo, a recent UCF graduate and former fraternity member who still stays close with his brothers and saw when one of them posted about the email on social media. "What kind of standard is the university setting by sending these emails?"
Also partnering for the meeting is the UCF office that supports people who are gay, lesbian, bisexual, transgender or questioning at the university.
Using the gay slur in the headline wasn't meant to insult people, said Briant Coleman, a UCF spokesman. Instead, he said he thought it was meant as an attention-grabber so people would attend.
"It wasn't intended to offend anyone," he said.
Thursday's meeting wasn't planned in response to an incident that happened at UCF, he added.
"This conversation will be the first of many for our Greek Life community," he said, adding he expected it to be a thoughtful discussion.
"As a part of the LGBT community, it makes me feel like my sexuality is a big joke to the university," student Stephanie Kruithof said.  […]
A fraternity member, who did not want to be identified because of other ties to the university, told WESH 2 News inclusiveness is well-practiced in his frat and others.
"I can tell you there are a lot of homosexual men and women in UCF's Greek life," he said. "One of my friends called it disgusting. Whether a person is gay or not shouldn't be a reason why they shouldn't be allowed in a fraternity."
School officials declined an on-camera interview but told WESH 2 News by email that the title of the email is regrettable.
"The decision to use that title was stupid, and we'll make sure it doesn't happen again," a statement from spokesman Chad Binette said, in part.