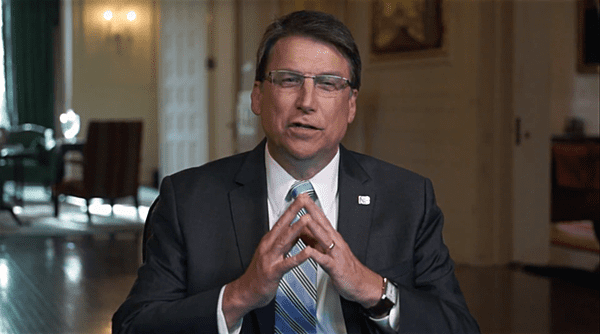 In a letter to the editor of the Washington Post, Governor Pat McCrory claims that " North Carolina proudly welcomes all people to live, work and visit our great state" and goes on to defend HB2, claiming that Charlotte's passage of an LGBT anti-discrimination ordinance was a form of "government overreach."
McCrory fails to mention the far-overreaching aspects of HB2, which bans any local LGBT non-discrimination ordinance statewide.
McCrory then goes on to attack the Human Rights Campaign and whine about how unfairly North Carolina is being treated, because there are other places in the world that are bigoted too:
Just five months prior to Charlotte imposing this overreaching law, voters in Houston overwhelmingly rejected a nearly identical regulation through a public referendum. Yet the men's NCAA Final Four basketball games were played there under no threats of boycott, retaliation or demagoguery from the media, entertainment, business elite or special-interest groups.
 Since the North Carolina legislature overturned this far-reaching Charlotte mandate, the Human Rights Campaign has led a coordinated assault and smear campaign. This national special-interest group, which is funded by anonymous donors, is attempting to bully companies, entertainers and anyone else who disagrees with its agenda. Our state is unfairly being used as its political pawn. Simply put, it is seeking to take jobs from hard-working men and women in the interest of self-serving, political theater and selective outrage.
However, the HRC remains silent while the same individuals and organizations sell their products, make their products or take entertainment dollars from countries like China, Cuba, Russia, Saudi Arabia and Singapore – countries with deplorable human rights records, especially toward the gay and lesbian community. Earlier this week, this group's hypocrisy reached new levels when it praised the Democratic governor of Louisiana for signing a "historic" executive order after criticizing my nearly identical executive order that expanded protections for state employees.