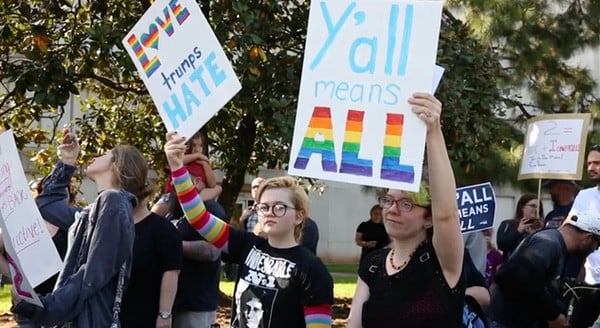 Hundreds of people marched in protest of the anti-LGBT bill HB 2 on Saturday in Raleigh, North Carolina, making their way down Jones Street to a spot in front of Governor Pat McCrory's mansion, the News & Observer reports:
At the protest, dozens of children stood with their parents, dressed in rainbow colors and holding signs. Protesters sang songs such as "Let It Be (Pee)" and another specifically written against HB2.
Motorists driving by honked in support. There were cries to vote out legislators who supported the new law and elect Attorney General Roy Cooper as governor. "Our legislators voted to legalize bigotry. They could have improved our schools or paid our teachers more or raised minimum wage, but they didn't," the protesters yelled in unison.
Watch a video from the News & Observer and a CBS Local report: