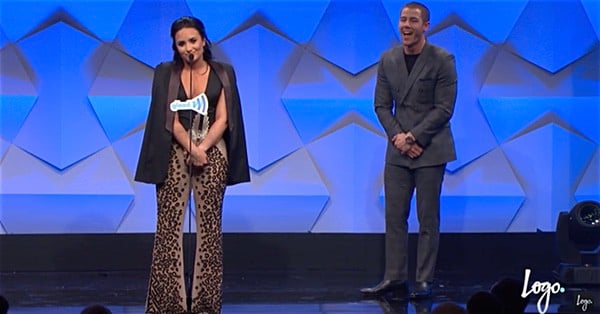 Demi Lovato accepted the Vanguard Award from GLAAD at the group's Media Awards in Los Angeles last night. The award, given to an ally who has made a "significant difference in promoting equality and acceptance," was presented to her by longtime friend Nick Jonas, and she wasted no time in making a Nick Jonas dick joke.
"What people don't know about me is … I know you all love Nick Jonas, but I actually have a bigger dick than he does…and a huge set of balls."
https://www.instagram.com/p/BDvxIbluKuR/
Added Lovato:
"You should always love yourself for who you are – the skin that you're in, whether you identify with it and are afraid to tell people – just go for it, you can do it. Have no fear. You can do it."
Watch:
The full speech has not yet been made available, but we'll add it here if it is.