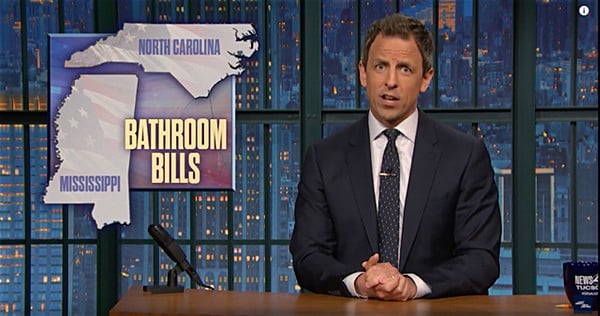 Seth Meyers last night took a deep dive into the world of anti-trans "bathroom bill" legislation, calling out extremist right-wing hucksters like FOX News, their "doctor" Keith Ablow, Ainsley Earhardt and others for pushing dangerous myths.
Meyers also explained gender identity to his Late Night audience — "It's not just a whim, it's a person's innermost concept of self. It's their identity, it's who they are" — pointing out a few really simple truths:
"Now there are any number of problems with these laws, and aside from the fact that they're hateful and discriminatory, they're also unenforceable. When asked how they would enforce North Carolina law, spokesman for one local police department said, 'So that means people have to go to the bathroom with birth certificates? Yeah, that was curious to me.' And another said, 'We don't have police officers sitting at public bathrooms all day long.' … But the most absurd impact of these kind of bathroom bills is you're actually forcing transgender woman, who are women, and transgender men, who are men, to use the wrong bathroom."
Meyers also looked at the boycotts and the economic impact that bigoted Republicans are having on places like North Carolina.
Watch:
https://www.youtube.com/watch?v=-0uBwpQivG8