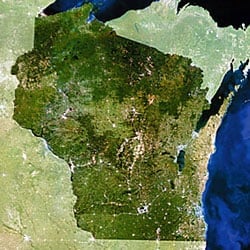 TODAY. Wisconsin primary. "Mr. Sanders's overall deficit — he trails Mrs. Clinton by about 230 delegates — is becoming so large that winning only modest victories puts the Democratic nomination farther out of his reach. He needs to win around 57 percent of the outstanding vote to win a majority of pledged delegates. If he falls short of that bar in Wisconsin, his target in later states will be ratcheted up even higher. Mr. Sanders might still pull off a big win. Barack Obama won the state by 17 points in 2008, after all. But a big win for Mr. Sanders would not necessarily put him on track to win the nomination. Even an overwhelming victory for the senator might only narrow Mrs. Clinton's lead by 20 delegates."
2016 ELECTION. Melania Trump makes stump speech in Wisconsin: "I'm very proud of him," she told a crowd at the Milwaukee Theatre, before dropping this doozy: "He is a hard worker, he's kind, he has a great heart, he's tough, he's smart, he's a great communicator, he's a great negotiator, he's telling the truth, he's a great leader, he's fair."
DISENFRANCHISEMENT. Department of Justice launches civil rights probe of Arizona primary: "The U.S. Department of Justice has launched an investigation into the handling of last month's presidential nominating contest in Arizona's most populous county, citing complaints of exceedingly long lines at polling places with high levels of minority voters."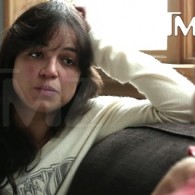 UNDER THE INFLUENCE. Michelle Rodriguez says she's upset that Paul Walker died before she did. "Michelle did an interview about her recent experience under the influence of a psychedelic plant/drug called Ayahuasca. She had taken it weeks before the interview, but it sounds like she's still a little under its spell when she rhapsodizes about life and death."
MASSACHUSETTS. Court to hear gay parental rights case today: "The Supreme Judicial Court of Massachusetts, the state that more than a decade ago became the first to allow same-sex marriage, will hear arguments Tuesday. The case seeks to determine whether Karen Partanen, whose former partner, Julie Gallagher, gave birth to two children through artificial insemination, should have the same parental rights as Gallagher. Partanen helped raise the children, now 7 and 4. She and Gallagher split in 2013."
WALLY BREWSTER. Gay Pride and Prejudice in the Dominican Republic: "The administration of President Danilo Medina, by remaining silent on the controversy, creates the impression that the government condones bigotry. That is a big mistake for a country that depends heavily on trade and tourism from the United States. The Vatican, shamefully, has done nothing to rein in Cardinal López, whose crude prejudice undermines Pope Francis' message of tolerance. Mr. Brewster and Mr. Satawake say the support they have received from ordinary Dominicans far outweighs the insults. 'I've been called a faggot since the third grade,' Mr. Satawake said. 'I know how important it is to protect those who can't protect themselves.'"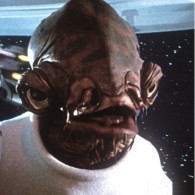 RIP. Erik Bauersfeld, the voice of Star Wars' Admiral Ackbar, has died at 93. "The voice actor and radio drama producer passed away on Sunday morning at his home in Berkeley, Calif., his manager, Derek Maki, confirmed to The Hollywood Reporter. In the 1983 space opera, Bauersfeld voiced Ackbar— delivering the iconic line, "It's a trap!" — when the fate of the alliance looks grim during the Death Star fleet attack."
INITIATIVES. Freedom for All Americans announces Transgender Freedom Project, a $1 Million Public Education Initiative: "Today Freedom for All Americans, the national campaign to secure LGBT-inclusive non-discrimination protections, launched the Transgender Freedom Project, a multi-year initiative aimed at building public support for transgender people and transgender-inclusive nondiscrimination protections. The TFP has three main goals: amplifying the stories of transgender Americans in the media and in statehouses, developing winning campaign strategies in partnership with other organizations, and equipping policymakers and advocates with tools and resources that advance transgender protections."
ADVERTISING. Honey Maid's This is Wholesome campaign takes on xenophobia: "Neighbors," seems crafted explicitly in response to immigration issues that have made headlines in the presidential race over the past year. "I didn't know anything about her culture. Only what I saw in the news," one neighbor says in voiceover—while looking out through her home's blinds at her new neighbor.
https://www.youtube.com/watch?v=iFumJXP6s1w
ACQUISITIONS. Alaska Airlines to buy Virgin America for $2.6 billion: "Alaska Airlines and Virgin America, two of the most profitable and best performing airlines, are merging in an effort to create the nation's fifth largest carrier with an increased presence in high growth cities such as Seattle, San Francisco, Los Angeles, Washington and New York City."
REAL ESTATE. Andy Warhol's first studio hits the market for $10 million.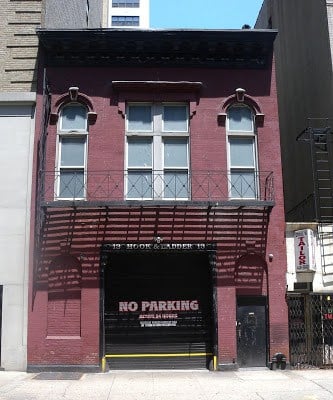 SPORTS. Twitter has won the right to stream Thursday night NFL games: "The social-media company was said to be bidding against a slate of heavyweights including Verizon Communications Inc., Yahoo! Inc. and Amazon.com Inc. Facebook Inc. dropped out of the bidding last week, according to a person with knowledge of the discussions who asked not to be named because the talks were private."
This fall Thursday Night Football will be streamed live @twitter so fans will see more of this. https://t.co/s6tbr9FjvY

— Roger Goodell (@nflcommish) April 5, 2016
VANDERPUMP FOOLS. Tom Sandoval of Vanderpump Rules stars in a new music video which claims "The song and video are not pro-drug, but a commentary on destructive habits. Kill The Noise explains: "In this story the message is that if you aren't careful, you can become figuratively (and literally) consumed by your lifestyle of addiction. The main character in this story has found himself stuck on an endless merry-go-round that goes nowhere." Mmm hmm.
DASH CAM VIDEO OF THE DAY. A near-miss in Australia. "The lady miraculously escaped uninjured although her car was badly damaged."
https://www.youtube.com/watch?v=jKQYRen_MIA
TOO HOT FOR TUESDAY. Thai bodybuilder Chokdee Phulkaew.
https://www.instagram.com/p/BDxpsEjlT8d/?taken-by=chokdee_22