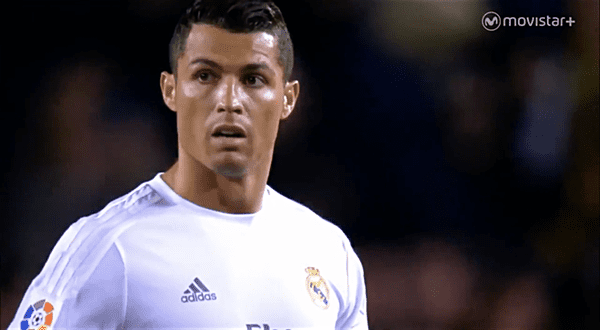 Cristiano Ronaldo was taunted by fans over the weekend because of his alleged relationship with Moroccan kickboxer Badr Hadri.
Ronaldo's team Real Madrid was up against Barcelona in El Clasico on Saturday, and Barcelona fans were apparently well aware of the rumors about Ronaldo and Hadri.
Morocco World News reports, "the crowd were heard chanting 'Vete a Marruecos,' or 'Go to Morocco,' in reference to the player's regular visits to Morocco."
More insidious than that, however, were chants of "maricon" hurled at Ronaldo by the opposing team's fans. "Maricon" is a gay Spanish slur comparable to "faggot."
Sections of the Barcelona crowd were clearly heard chanting "maricion" before Madrid's win on Saturday, aimed at the former Manchester United star who has been linked with a Moroccan kickboxer in Spanish tabloids.
An LGBT watchdog group committed to stopping homophobia in sports has since called on the Spanish government to act in response to the anti-gay chants. ESPN reports: 
The Observatorio Espanol contra la LGTBfobia (StopLGBTfobia) has asked the Spanish government to take action against individuals they say made anti-gay chants during the minutes' silence held before the game to honour recently deceased Barca legend Johan Cruyff.
The chants were not included in the referee's report on the game, and neither Ronaldo nor his club have spoken about the issue, however StopLGBTfobia director Francisco Ramirez said in a statement that action should be taken to deal with abuse which is a widespread occurrence in Spanish grounds.
"These lamentable and shameful actions are punishable under the Sport Law of 2007," Ramirez said.
"These are nothing new in Spanish stadiums, where for years players and referees have often been insulted using homophobic terms, without there being any public or exemplary punishment. This ends up continuing the presence of homophobia in Spanish football."
Ronaldo, however, seemingly had the last laugh against his detractors, as Real Madrid trounced Barcelona. To celebrate, Ronald shared a shirtless locker room selfie.
Watch a video recap of Saturday's game in which you can hear the chant "Vete a Marruecos," below.