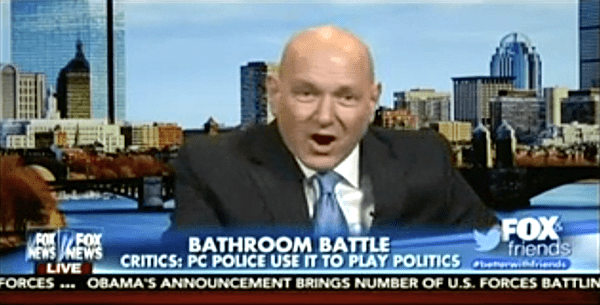 A member of the "Fox News' Medical Team" recently appeared on the conservative network to promote what he thinks should be done to "cure" transgender kids of being trans: giving them hormones to make them more like their biological gender at birth.
Dr. Keith Ablow was discussing Target's recent pro-LGBT stance on bathroom rights when he brought up hormone 'therapy.'
Media Matters for America reports: 
In a rant where he compared being transgender to pretending to be 65 to get Medicare, Ablow proposed injecting transgender children with hormones corresponding to their gender assigned at birth to "go with nature" and make them "feel more comfortable." Ablow's proposed "treatment" is his own extreme variation of discredited ex-gay "conversion therapy" which falsely claims to change a person's sexual orientation or gender identity. Ablow's suggestion is reminiscent of 1940's era "treatments" where lesbians were forced to submit to estrogen injections and men were given testosterone to "cure" them of being gay. These type of "reparative therapy" practices have been rejected for decades by all mainstream medical associations.
While Ablow has a history of attacking transgender children with extreme, inaccurate claims, experts contradict his talking points.
Said Ablow,
But look, there's not a lot of scientific evidence that it's better to approach transgender youth with the opposite hormone because we inject them with massive doses of testosterone if they're female to say look we'll make you more comfortable with your chosen gender. You know, we don't even explore, should it be more estrogen? Should we go with nature and say maybe we'll make you more female, you'll feel more comfortable? There aren't these explorations. We don't treat with psychiatric medicines by and large to say maybe this is a bit of a fixed and false belief. Not different than if you thought you were black person when you are caucasian. The science isn't even there.
Watch the segment, below.