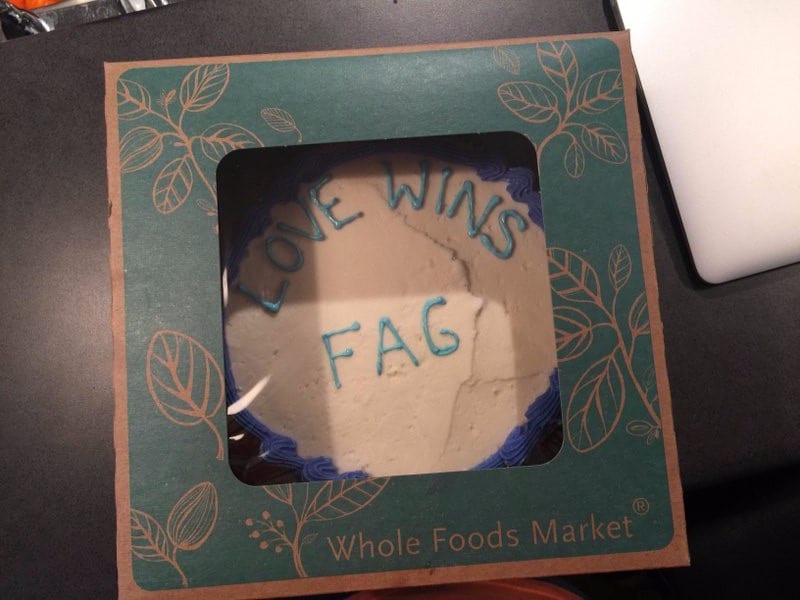 Jordan D. Brown, a gay pastor in Austin, Texas, says a cake he ordered from a local Whole Foods for a member of his congregation was defiled with an anti-gay slur.
The cake was supposed to read, "Love Wins." However, the cake he was presented read, "Love Wins Fag."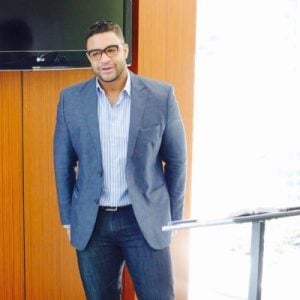 Brown (right) shared a photo of that cake (above) on Twitter, writing, "LOVE WINS FAG. That's not the cake I ordered, @WholeFoods and I am offended for myself & the entire #LGBT community."
Brown has now filed a lawsuit against Whole Foods after the company claims the store associate who did the cake writing did nothing wrong.
According to the Kaplan Law Firm PLLC, Pastor Jordan Brown, an openly gay African-American man, reported the incident to Whole Foods. Kaplan Law Firm said Whole Foods said they investigated the incident and allegedly told Pastor Brown the store and its employee had done nothing wrong and no action would be taken.
Brown's lawyer, Austin Kaplan, said his firm reached out to Whole Foods' corporate office on April 15, but received no substantive response for more than three days and at that point the lawsuit was filed.
Whole Foods issued a statement in response to the incident:
"The team member wrote "Love Wins" at the top of the cake as requested by the guest and that's exactly how the cake was packaged and sold at the store. Our team members do not accept or design bakery orders that include language or images that are offensive.  Whole Foods Market has a zero tolerance policy for discrimination."
Brown was reportedly a frequent shopper at Whole Foods. Said his lawyers in a statement, "What really concerns [Brown] is knowing that unless some action is taken, this kind of thing could happen again, and that someone else might have to go through a similarly excruciating experience."
Brown and his attorneys held a press conference, making clear they were not happy with how Whole Foods responded to the incident. KXAN reports: 
At a 3 p.m. press conference with his attorney, Brown, who is black, said, "Saying f– is the same as calling me a n—–." His attorney said they consider the inscription to be an act of hate, and that no one deserved to be discriminated against.
"As a pastor, I forgive her. I'm praying for her that she would have a change of heart," Brown said.
Brown made a video showing the receipt, the sealed cake and his reaction to the slur [.]
Watch that video below.
https://www.youtube.com/watch?v=p972qntg1qM
UPDATE. Whole Foods has issued a second statement on the incident. Apparently, the person who prepared the cake identifies as part of the LGBTQ community.
Our team member wrote "Love Wins" at the top of the cake as requested by the guest, and that's exactly how the cake was packaged and sold at the store. Our team members do not accept or design bakery orders that include language or images that are offensive.  Whole Foods Market has a zero-tolerance policy for discrimination.  We stand behind our bakery team member, who is part of the LGBTQ community, and the additional team members from the store, who confirmed the cake was decorated with only the message "Love Wins."