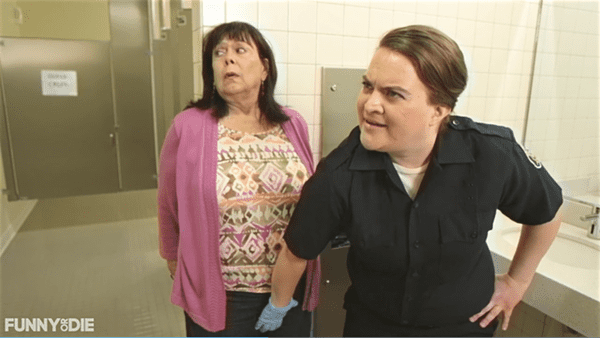 Okay, not really.
But a new video from Funny or Die mocking North Carolina's anti-LGBT bathroom bill, HB 2, underscores not only the ridiculousness of the law but also its danger.
In the 'training video,' bathroom cop Tammy Cox shows you how you can make sure that North Carolina's public bathrooms remain a "safe and wholesome place."
First she advises bathroom cops to require to see ID from anyone entering a state-run bathroom: "You are entering a state run pee-pee and poo-poo facility. May I see some form of gender registration or a Xerox copy of your genitals?"
But if they don't have any ID on them, or they refuse, you're going to have to take things a step further: "If a citizen is being invasive you'll want to conduct a visual scan to make sure they're not harboring any suspicious genitals on their person."
And remember, no matter what other dangers might require your attention as an officer of the law, you are a bathroom cop and your duty is to protect the bathrooms of North Carolina from unwanted ding-dongs.
Watch, below.
[h/t NCRM]