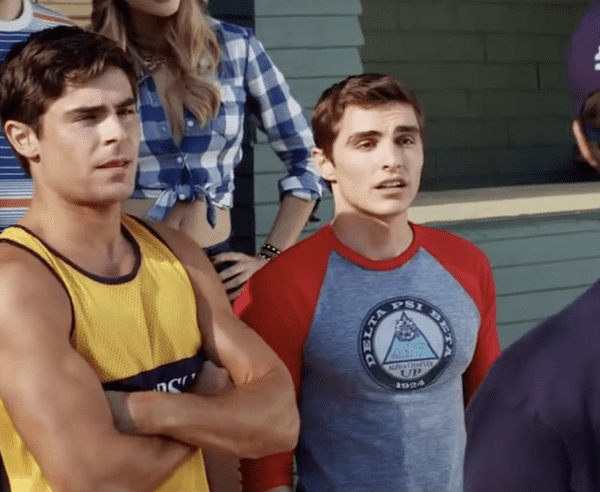 Dave Franco's character in the upcoming film Neighbors 2: Sorority Rising will be gay and engaged to another man (John Early, formerly of 30 Rock).
Franco's character, Pete, was for all intents and purposes heterosexual in the original frat-bro comedy which saw him and fellow frat member Teddy (Zac Efron) wage battle against their new neighbors (Seth Rogen and Rose Byrne) who just wanted a little peace and quiet.
Yahoo! calls the news a "welcome" but "surprising twist for the sequel to the testosterone-fueled comedy."
Just to be clear, gay male characters and stories by default have testosterone. They can even be (and often are) fueled by it.
More on the backstory from Yahoo!:
Director Nicholas Stoller first started thinking about evolving Pete's sexuality in a future sequel while making the original Neighbors. He was particularly inspired by the climactic scene that found frat mastermind Teddy insisting that his bromantic sparring partner Pete flee the scene of a crime — a firework-ravaged party house — so that Teddy could take full responsibility. "I love you," Pete wistfully tells Teddy before darting off.
"Clearly, we're playing with the homoerotic tension there, and I was like, 'He should just be gay,'" Stoller told us last month during a visit to his Hollywood edit bay. "Then in this one, it came up again. [Co-writer] Evan Goldberg brought it up, and he said, 'I think he should be gay, and part of [his arc] should be the proposal.' It was kind of all of us coming to the same conclusion."
Said Franco of the "plot twist":
 "I was so excited…Even though I'm not on screen for a significant amount of time, hopefully it will be very memorable. And of course I was excited to try something new with the character while still maintaining his essence."
Cinema Blend has more on Pete's evolution:
During the press junket for the original Neighbors, Stoller was asked by a reporter why he had never included a gay character in previous movies. The director admitted that he had no good answer why he hadn't, and so began to look for a way to do so.
Watch a report from Cinema Blend, below.