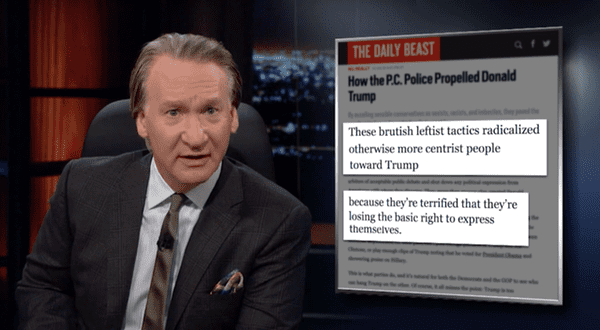 On Real Time with Bill Maher Friday night, host Maher blasted both the media and Republicans who are attempting to blame liberals for the rise of Donald Trump.
Said Maher to conservatives, "If we have to own the man-bun, you have to own the Donald." Maher went on to cite articles (a number of which were not from conservative news outlets) that push the thesis that liberals' smug obsession with facts and so-called 'political correctness' "Forced otherwise reasonable people into Trump's hateful embrace."
Maher wasn't having it. "That is their thesis, really, that Trump voters are perfectly nice if left alone–like raccoons. They just want to eat garbage and crap in your hot tub." Of the fact-free bubble that many Republicans live in, Maher quipped, "It hurts their feelings when we insult their values with our facts."
He wondered how he "as a liberal fact-knower, can both not insult you but also tell the truth." In other words, how are liberals supposed to respect Republicans' views when they so often espouse views based on Looney Tunes-rewriting of factual evidence?
Said Maher,
"I can't honestly say I respect your view that the world is 5,000 years old because it's 2016. If Sarah Palin claims nighttime is when Jesus puts a blanket over the sun and I disagree, does that make me smug? I'm sorry you find it irritating when liberals point out that global warming exists, or that racism exists, or that gay people exist. But here's the thing. You guys were wrong about all that. Really. Check the climate science. Check the dashboard camera on the police car. Check your pastor's internet history."
He adds, "Trump is your problem. But somehow the party of personal responsibility doesn't want to take responsibility for this one."
Watch, below.