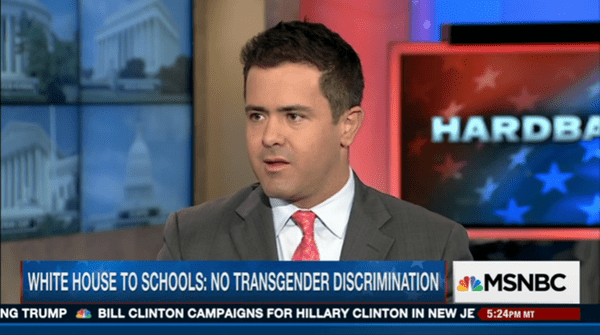 On Friday's Hardball on MSNBC, host Chris Matthews stumped a guest from the anti-LGBT group Family Research Council about what bathroom transgender people should use.
That guest was Travis Weber who joined transgender rights activist Jennifer Finney Boyland to talk about bathroom rights for transgender Americans with Matthews. Throughout the program, Matthews tried again and again to get Weber to answer one simple question: which bathroom should Boyland and other trans women like her use?
The exchange was classic Chris Matthews, who is known for not letting a guest get off the hook.
Via Media Matters For America: 
CHRIS MATTHEWS (HOST): Travis, tell Jenny what bathroom she should use.
TRAVIS WEBER: Well —
MATTHEWS: Which one should she use?
WEBER: Yeah, I mean I'm not sure, um —
MATTHEWS: Well just answer that question.
WEBER: I think people should be —
MATTHEWS: She said she would not be comfortable or not cause such problem if she walked into a men's room. Should she walk into a men's room?
WEBER: I think we can do things the way we've done them for decades, and people could use bathrooms according to biological sex with specific accommodation made for people who have a genuine issue. If we look at the North Carolina law, it made an accommodation. People are not happy with that, however. And now the Obama administration —
MATTHEWS: Let's just talk about transgender people. What should a transgender person who identifies as a woman do? What bathroom should they go to? Just keep it simple.
WEBER: Yeah well there's an issue of privacy concerns.
MATTHEWS: See no, you can't answer the question, can you? What should they do?
Matthews continually returned to the question throughout the segment, at one point asking Weber, "What should Jenny do if she was visiting North Carolina right now? Should she go to the men's room? Should she? You're dodging the toughest question, which is what do you want people to behave like?" He then asked, "Can you answer the question? Should Jenny go to the men's room or the ladies room?"
Trying to understand what Weber's position is, Matthews asserted, "It just seems odd to me that you'd want Jenny to show up in men's room you go to. You think that would be appropriate? You think that would be appropriate? It's a simple question, should Jenny go to your men's room? Yes or no." When Weber again did not answer the question, Matthews said, "See, you're dodging this question."
Watch the segment, below.