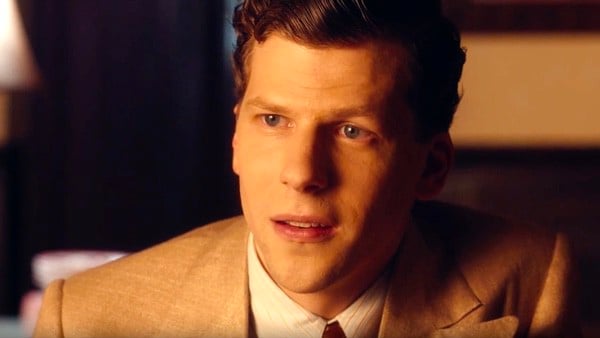 The 69th annual Cannes Film Festival began last night in the south of France, with the premiere of Woody Allen's Café Society. Here's a sneak peek review of the film which hits US theaters on July 15th.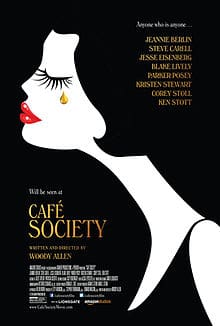 Few things in life are as regular as Woody Allen movies. For the past 40 years or so they arrive exactly once a year. In recent years they generally premiere out of competition at Cannes and predictably reignite the endless cycle of media wars about Woody Allen.
The only thing irregular about the experience is the reviews, box office, and Oscars. For the past 10 years or so it's been especially hard to predict. In that time he's delivered critical and commercial Oscar winning hits that the media fawned over (Blue Jasmine, Midnight in Paris), well received films that didn't quite crossover to that same extent (Match Point, Vicky Cristina Barcelona), critical flops that did surprisingly okay at the box office (To Rome With Love), trifles that people tolerated (Scoop), reanimated abandoned projects that everyone wished had stayed dead (Whatever Works), as well as critical and commercial flops (You Will Meet a Tall Dark Stranger, Cassandra's Dream).
In short (too late!) his films come with a lot of history and even more baggage.
His latest, Café Society, begins with very little literal baggage as a young optimistic man named Bobby (Jesse Eisenberg) leaves New York for Hollywood for reasons that don't extend much beyond "trying something new."
The first half of the picture takes place in Hollywood where Bobby gets work with his big deal uncle Phil (Steve Carell) a powerful agent in the movie business and befriends colorful figures like a happily married sharp-tongued couple (happily married in a Woody Allen picture — come again?) played with brassy aplomb by Parker Posey and Paul Schneider.
Bobby also meets an innocent hooker (Anna Camp) because this is a Woody Allen picture and if a character doesn't work in academia, showbiz, art, organized crime, or publishing in his universe, they're an innocent hooker.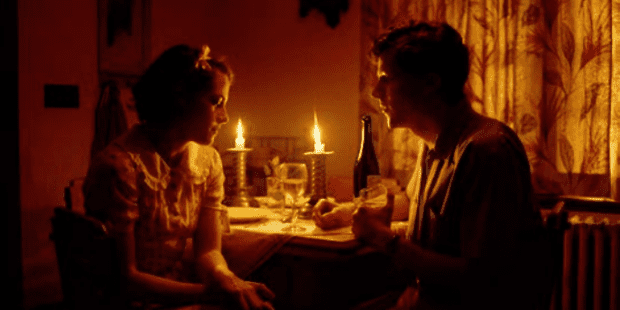 While in Hollywood Bobby falls head over heels for his uncle's secretary Veronica nicknamed "Vonnie" (Kristen Stewart) who is unfortunately already attached. To whom, she won't say.
Once you get past the double-take oddness of Kristen Stewart's modernity accessorized with a dainty bow in her hair — she makes no effort to play "period" — she's compellingly ambiguous in both her romantic feelings and the depth of her character.
In the second half of the picture we return to New York City where the heartbroken Bobby joins his gangster brother (Corey Stoll, underused but fun) in the nightclub business. Soon everyone in high society knows Bobby's name.
Enter another lovely Veronica (Blake Lively) to steal his heart. It's not a spoiler to reveal that the original Vonnie, still otherwise attached, reenters the picture because it's not a Woody Allen movie without multiple adults self-sabotaging their relationships!
Like many of the infamous director's pictures, Café Society often plays out more like a novelistic stage comedy or radio serial than a standard movie since the narrator (Woody himself) fills in all the backstory, character profiles, and gaps between proper scenes as the plot zooms through several years.
This picture evolves into a wistful romantic dramedy that's caught between the coasts – its soul and family are in New York City but its eyes and body are perpetually seduced by Hollywood glamour. To that end, praise is in order for Woody's long time production designer Santo Loquasto (Oscar nominated for Zelig, Bullets Over Broadway and Radio Days) for parading the wealth of the characters around in their environments and the legendary cinematographer Vittorio Storaro (a three time Oscar winner for the classics Reds, Apocalypse Now, and The Last Emperor) who grants the movie considerable warmth and a soft lushness.
Blake Lively and Kristen Stewart, the two Veronicas, really ought to build shrines to Storaro because they've never looked more beautiful onscreen.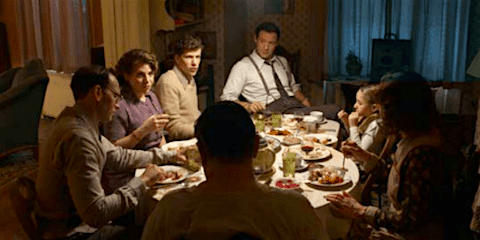 Café Society, in the grand scheme of the director's long filmography, is overly familiar and insubstantial; it won't convert any new fans. While the movie's individual parts (adulterous romance, gangster business, Old Hollywood, Jewish family comedy) are all fairly compelling, they aren't truly in conversation so its unclear what any of them really have to do with each other beyond catering to their creator's whims.
Still, taken on its own, it's a perfectly pleasant if featherweight dramedy with one eye on Old Hollywood (masturbatory name-dropping galore for movie buffs) and the other one on neurotic Jewish families. The scenes with Bobby's siblings (Stoll, and the very funny duo of Sari Lennick & Stephen Sunken) and ever-bickering parents (Jeannie Berlin & Ken Stott, both terrific) are easily the film's funniest and most endearing.
Between its bicoastal identities, though, whatever lingering effect the movie conjures comes from the melancholy of its lost romance and those dreamy looks in Bobby and Vonnie's eyes when they think of the other.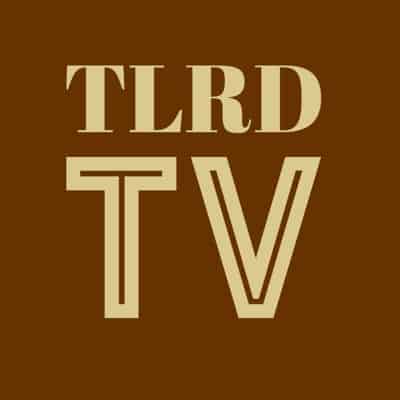 The Cannes Film Festival runs through May 22nd. Director George Miller (Mad Max Fury Road) presides over the competition jury. Café Society premiered Out of Competition.