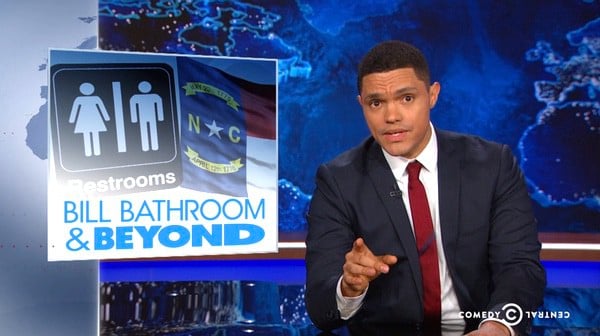 Trevor Noah and The Daily Show took on the week's biggest story – the flying lawsuits over North Carolina's 'bathroom bill' HB 2.
After explaining what the fighting is all about, Noah expressed shock at the amount of money the state is willing to forgo over their anti-trans hate:
"You're willing to give up 2 billion dollars over bathrooms? There is no one I would not let use a bathroom for 2 billion dollars. In fact, I would be your bathroom for 2 billion dollars. I would literally let you s–t on me for 2 billion dollars."
Adds Noah:
"If you can ID anyone who was in the bathroom with you, you are paying too much attention."
Then Noah offers praise to Loretta Lynch for her knockout statement and proceeds to utterly destroy Governor Pat McCrory's championing of North Carolina as the "Ninth Largest State".
"When Governor McCrory says 'Ninth Largest State,' he makes it seem like it's his catchphrase – which apparently it is….Somewhere, the governor of the 10th largest state is there like 'damn you McCrory, quit rubbing it in we're doing our best.' And then he's taking a golden number 9 out of his cabinets and [he rubs it, saying] 'someday, someday.'
Watch:
Senior Legal Affairs correspondent Adam Lowitt breaks down what the state can do to win
"Carolina's scared of transgender pee pee and poo poo."
Lowitt suggests skillful negotiation can help them win.
"Now North Carolina it seems like you're losing this one but what the feds don't know is that you're already ranked 47th in the nation when it comes to teacher pay, so you could give a f–k about education. When North Carolina students bring their teachers an apple, that's their dinner. So let them cut the money, then you drop down to 50th and next season you get a first round draft pick."
He also cites North Carolina's God-given right to go on tv and freak people out, and tells them to prepare for the worst.
Watch: