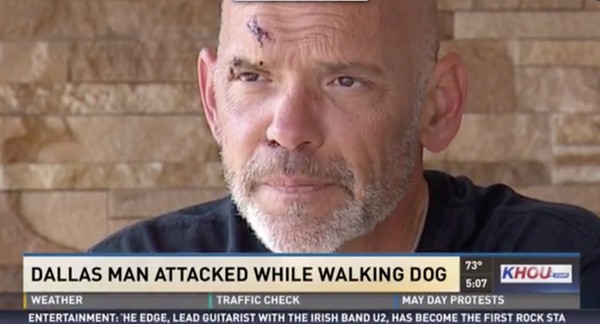 A Dallas man says he was the victim of an anti-gay attack outside his home in the Oak Lawn neighborhood over the weekend, KHOU reports:
Craig Knapp, 50, tells WFAA he was walking his neighbor's dog early Saturday when two men approached him outside his apartment building. According to a Dallas Police report, the attack occurred in 4100 block of Cedar Springs Road just after 4 a.m. on April 30.
Knapp says one of the men asked the name of the dog and after he replied, one of the suspects used a gay slur and began hitting him in the face.
"I wanted to get out alive, plain and simple," Knapp said.
He says he offered the two suspects his phones and cash but says they didn't take it.
The latest attack comes amid a string of attacks against LGBT people in the same neighborhood.
Towleroad's John Wright reported on the troubling series of incidents in March:
About 20 new recruits have signed up for the Dallas Police Department's Volunteers in Patrol program since more than a dozen anti-gay attacks were reported last fall. However, police still haven't made any arrests in connection with those incidents, and the volunteers' presence apparently has done little to quell the wave of violence against LGBT people in the city's gay entertainment district.
John Anderson, the volunteer featured in our report, says there have been at least five additional attacks against LGBT people in the last three weeks in Oak Lawn. But none of the victims have reported the crimes to police.
Knapp says he is angry and says "this community knows these are hate crimes." He wonders why there have been no arrests.
Watch: