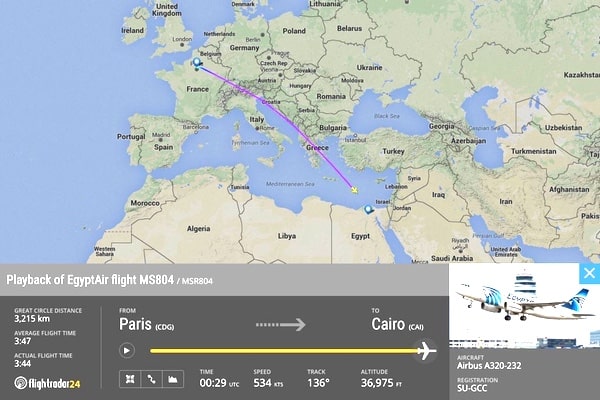 An EgyptAir Flight MS804 disappeared over the Mediterranean overnight after leaving from Paris. The plane was headed to Cairo carrying 66 people (56 passengers and 10 air personnel). After an "abrupt" incident, the plane disappeared from radar. Searches are underway.
UPDATE: French President Francois Hollande confirmed that the plane crashed.
The director of Greece's Civil Aviation Authority said air traffic controllers were in contact with the pilot of EgyptAir Flight 804, an Airbus A320, as it passed through Greek airspace.
The director, Constantine Lyzerakos, told private Antenna television that controllers tried to make contact with the pilot 10 miles before the flight exited the Greek Flight Information Range (FIR), but the pilot did not respond.
Lyzerakos said controllers continued trying to contact the pilot for about 10 minutes, until 3:39 a.m. Greek time (8:39 p.m. Wednesday, Eastern time) when the plane disappeared from the radar in Egyptian airspace. EgyptAir said it disappeared about 175 miles off Egypt's coast, north of the Mediterranean port city of Alexandria.
A merchant ship captain said he saw "fire in the sky" about 130 nautical miles south of Karpathos- media in Greece/ Cyprus report #EgyptAir

— Nathan Morley (@nathanmorley) May 19, 2016
Missing #EgyptAir flight: @richardquest gives his initial analysis. https://t.co/WIKC3R5HtJ https://t.co/Tdm4OndLiH

— New Day (@NewDay) May 19, 2016
#Egyptair says passengers were: 15 French, 30 Egypt, 1 Brit, 2 Iraqi + 1 from Belgium/Kuwait/Saudi/Sudan/Chad/Portugal/Algeria/Canada (each)

— Cassandra Vinograd (@CassVinograd) May 19, 2016
Analysts were cautious about speculating on the cause of the flight's disappearance but said terrorism cannot be ruled out.
"The current indications are leaning toward some sort of abrupt incident as opposed to some sort of gradual malfunction," said Daniel Nisman, a security analyst at the Levantine Group.
Nisman pointed to the altitude of the plane — which he said suggested there had not been an attempt to descend due to, say, a loss of cabin pressure or engine failure.
An emergency signal was sent from the plane at 3:26 am:
But rather than it being a distress call sent by crew members, he said, it appeared that an emergency locator transmitter activated the signal automatically because of "a big shock."
The jet had three security officers on board:
Three EgyptAir security officers were aboard the missing flight, the French authorities said.
Alain Vidalies, the junior minister for transportation, said the security presence was a "usual procedure for EgyptAir planes."
He also said the plane had not been carrying cargo.