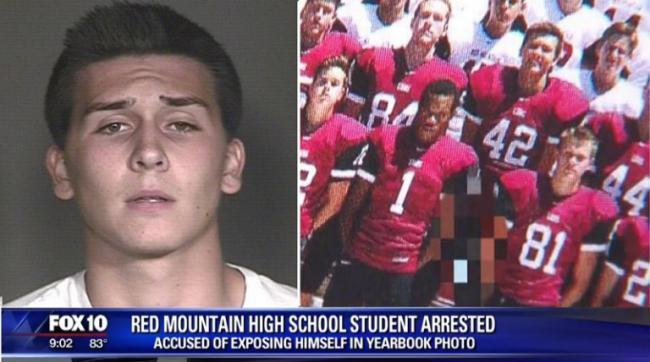 A 19-year-old high school football player who was arrested after exposing himself in a yearbook photo as a prank has received an offer to pose nude from Playgirl.com.
According to the blog Naughty Gossip, Playgirl had this to say about Hunter Osborn (above left): "We're trying to reach this kid to get him in Playgirl. We want to support him as this was a hilarious prank, and people are too tightly wound. Playgirl.com would like to have him pose naked and pay his legal bills."
More on Osborn's run-in with the law over the prank, via CBS News: 
Det. Steve Berry of the Mesa Police Department said as a result of the incident, 19-year-old Hunter Osborn has been booked for 69 counts of indecent exposure — a class 1 misdemeanor — and one count of furnishing harmful items to minors — a class 4 felony, reports CBS affiliate KPHO in Phoenix.
Berry said they arrived at that number of criminal charges because there were 69 students, ranging in age from 15 to 19, and 10 faculty members present when the picture was taken. If individuals in the photo are older than 18 and do not wish to press charges, the number of criminal counts could be reduced. […]
The photo was printed in both the yearbook – which was sent out to 3,400 students — and in the school's football program, sold at games and seen by many family and community members.
According to police, Osborn said he was dared by teammates to expose himself, and that in retrospect he was "disgusted" with himself for doing it.
Osborn's school says it has recalled the yearbook in which the photo appears. A statement from the school reported on by TMJ4 reads:
"While the small size of the photograph as published makes the details difficult to discern, the yearbook has been recalled so the school can make a minor but critical edit for the inappropriate content."
Watch a news report, below.