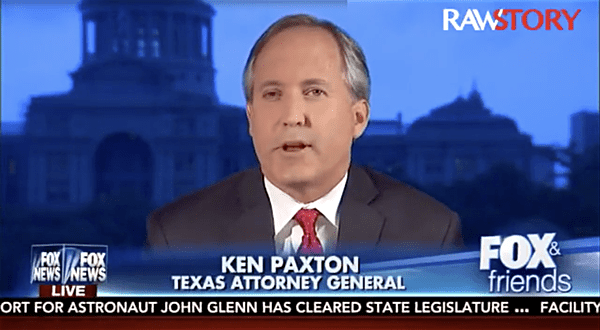 Texas Attorney General Ken Paxton told Fox & Friends that the real reason he's fighting the Obama administration's directive on transgender students is that he's worried about 'men switching genders.'
On Wednesday, Paxton announced that he and 10 other states would sue the Obama administration over its guidance which urged all states to allow transgender students to use bathrooms and changing rooms in accordance with their gender identity.
Said Paxton on Fox, "This guideline doesn't address any particular problem. They have not been very specific about what they're trying to solve. This opens the door with all kinds of issues with men deciding one day they want to be women and then switching back the next day."
Asked by co-host Brian Kilmeade what Paxton would tell professional sports leagues who have, for example, expressed concern about a recent North Carolina law that restricts the use of private facilities by transgender individuals, the Texas attorney general seized the opportunity.
"Well, I'd just tell them to look at the law and realize that we're a constitutional republic," Paxton said. "And that we need to focus on following the law and if these groups want to change the law, they should go in and speak to their congressmen and work on changing those laws, but it shouldn't come through the White House. That's not the constitutional job of the White House."
Watch Paxton, below.