The Mississippi Department of Education has reversed its position on President Obama's guidance regarding how public schools should treat transgender students. While the state DOE previously said it would act in accordance with the recommendations, one of the state's top education officials did an about-face on Wednesday.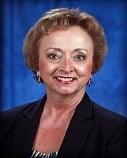 State Superintendent Carey Wright made the announcement Wednesday morning in a brief statement, saying the department would "follow the lead of state leadership" and take no action until the state Board of Education could discuss the situation. The move comes as Republicans in a number of other states have opposed the guidance, with some seeking to join legal challenges.
Mississippi education officials had said Friday they would follow the guidance by federal authorities calling for transgender students to be treated consistently with their gender identity. They cited a need for a "safe and caring school environment."
The reversal is widely being attributed to Republican lawmakers in the state who vocally denounced the President's actions:
Wednesday, 27 Republican state senators among the GOP's 32-member supermajority sent a letter to Wright and the Board of Education calling for "swift and decisive action on this urgent matter."
"The federal government is, in effect, trying to blackmail our state by implying that funding for public schools will be withheld should we continue to recognize biological sex when setting safety and privacy policies for our schools," the senators wrote. "Dr. Wright made the decision to usurp the board's authority and unilaterally issue the policy decision to acquiesce to the illegal demands of the federal government. For this, the superintendent must be held accountable."
That followed a letter Tuesday by 11 Republican House members asking Wright to reverse the department's position. The group, including five members of the House Education Committee, told Wright that if she didn't reverse herself, she should resign.
"The policy of allowing boys or men into bathrooms and locker rooms with girls poses a threat to the safety and well-being of every school-aged girl in this state," they wrote.
On Tuesday, Mississippi Governor Phil Bryant called for ignoring the guidance issued by President Obama:
"As I said last week, the Mississippi Department of Education should disregard the Obama administration's so-called guidance regarding public schools' bathroom policies. Mississippi's school children should not be forced to participate in the president's social experiment."