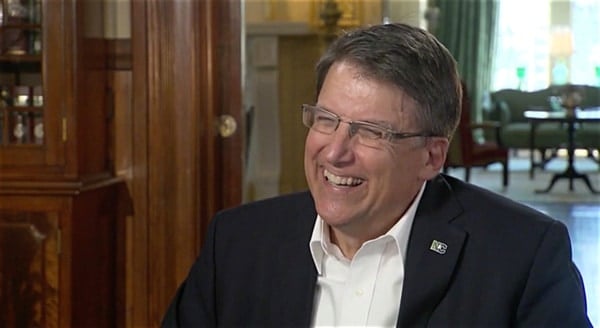 In a radio interview with John Boy and Billy of 'The Big Show', North Carolina Governor Pat McCrory went on a lengthy tirade against a litany of groups and individuals that have been vocally opposed to the anti-LGBT bill HB 2, which McCrory signed into law.
As we've reported, the bill was drafted in an emergency session of the state legislature to overturn an LGBT rights ordinance approved in the city of Charlotte.
Speaking on Tuesday, McCrory denounced the Charlotte ordinance which in his words would have "allow[ed] people to determine their own gender identity" regardless of "what their real gender is." McCrory went on to say, "If you're a boy and you wanna be a girl you can use a girl's bathroom."
McCrory also showed that he didn't fully understand the Charlotte ordinance, something that could have been remedied if he had met with LGBT rights groups before signing one of the most aggressively anti-LGBT laws ever to exist in the U.S. Said McCrory, "There's also gender expression…I don't know what that means." Charlotte, he concluded, "wanted to be the bathroom police."
As for the backlash he and the state have received following the passage of HB 2, McCrory blasted many of the most high-profile opponents of the law. Of the Human Rights Campaign, who he met with, McCrory said, "They're machiavellian, man." McCrory added that he didn't understand why the ordinance was of concern to gays and lesbians. "This had nothing to do with gay and lesbian. This had to do with privacy," McCrory said.
McCrory called company PayPal hypocritical for cancelling a planned expansion in North Carolina. "They do business in the Sudan," McCrory said. "They cut your head off for being gay or lesbian but they can't do business in North Carolina."
McCrory also insisted that he is not a bigot. "It's the farthest thing I am," he told the radio hosts.
As for Bruce Springsteen, who cancelled a North Carolina concert over HB 2, McCrory suggested Springsteen had an ulterior motive for pulling his show: "By the way they only had 8,000 tickets sold but they didn't mention that…I doubt he read [HB 2] or understands it."
Listen to the interview, below.