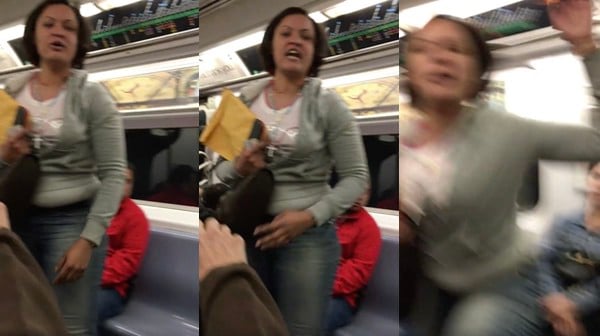 Pearl Love, a NYC trans woman, filmed a disgusting transphobic attack she experienced on the NYC subway last week. The clip shows a fellow passenger harassing her and finally approaching her to assault her. Nobody else on the subway does anything to try and stop the woman.
https://www.facebook.com/pearl.mclove/videos/1102376999804985/
Wrote Love in a post accompanying the video:
Hi. Everyone, it's Pearl :
I am an outreach social worker for Trans Latina network and an Asian transgender individual. Today is 4.28.16 Thursday. I work in big event for the center – the 8th annual immigration fare & culture event. Between 4:30-4:45 pm. I was on 6 train from Bronx to the LGBT center to work , when I change 6 train to 4 express train in 125 st station an unknown woman sitting across me starter to verbally abuse me. Make lot of s**t comments about how much she hate Trans people and want me to suck her d**k. She also made racist comments. I ignored her and kept reading my book.
When the train got to 86 st she start getting so loud and crazy yelling at me so I started to record her on my phone can- she start getting even louder and start assault me and hit me. As you can see it's definitely a hate crime. She attacked me inside the train . When I retreated she threw all my stuff on the floor and chased me around the train and say she is going to find a stick to hit me.
It was a crowded train and everyone heard it but no one helped me. Guys acting like nothing happened. For 5 min. Then when the train stop on 42 st. She got out of train but keep yelling at me, I recorded 4 videos around 3.5 min. Thanks to an older guy who helped me pick my stuff up and put it back my bag, and said sorry to me👍. So now you can understand what's happening in my everyday life. That happens all the time. But it's my first time recording it. 😅

….Well she has a lot to learn . She need education to how to respect, learn not to be discriminatory against the Trans Community . I am so sad for her children. Have that kind of mother to teach them to grow up to be bigoted a**holes 😱😭.
Love told Gawker's Rich Juzwiak that she is meeting with the Anti-Violence Project and didn't report the incident to police because she didn't know which precinct to go to.
"All transgender people probably know that's everyday life," she explained. "People will tell you, 'Don't sit in front of me. I don't want to see you in front of me. Fuck off.'"
"I didn't know that much was wrong with it until people told me, because I get that all the time," she elaborated. "I thought it was kind of normal—people are just not nice."
Love, who immigrated from Taiwan to the U.S. in 1998, has no contact with her family on account of her gender identity. She says she faces further discrimination in job searches, and recently found herself "almost homeless."
"It's not even the worst thing in my life," she said of the routine bigotry she faces, as depicted in this video.