TELEVISION. Fox unveils teaser for Rocky Horror Picture Show remake.
https://www.youtube.com/watch?v=outmDIi29Bo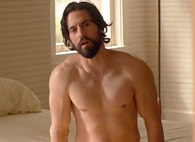 SKIN. Milo Ventimiglia strips down in new trailer for his NBC series This Is Us, also starring Mandy Moore.
KEEPING UP WITH MIMI. Mariah Carey is getting a reality show all about her 'world.'
POTUS. President Obama talks about why he has been fighting for transgender rights: "We're talking about kids. Anybody who has been in school, in high school, who has been a parent should realize that kids who are sometimes in the minority, kids who have a different sexual orientation or are transgender are subject to a lot of bullying, potentially. They're vulnerable."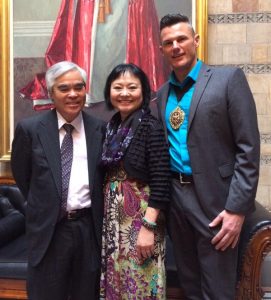 UK. City of Manchester to swear in first openly gay Lord Mayor: "Councillor Carl Austin-Behan will become the first ever openly gay person to hold the historic title when he is sworn in on Wednesday. The 44-year-old – a former Mr Gay UK – felt it was time for someone who represents Manchester's celebrated lesbian, gay, bisexual and transgender community to finally don the ceremonial robes. And it is all the more meaningful after a long battle to stop his sexuality blocking his ambitions. Just over 20 years ago he was kicked out of the Royal Air Force for being gay at a time when it was still illegal."
ANCIENT ROME. Construction of a new metro line in the eternal city runs into Roman barracks and burial ground: "It's exceptional, not only for its good state of conservation but because it is part of a neighbourhood which already included four barracks."
MUSIC. Barbra Streisand announces new 9 city tour: "Streisand will perform her hits from each decade plus songs from her new album, 'ENCORE: Movie Partners Sing Broadway,' celebrating a career of unparalleled creative achievement. Every ticket purchased online includes a CD of Streisand's new album, which will be released later this year."
SCOTUS. The Supreme Court won't review 4th Circuit ruling that has huge implications for transgender rights: "The justices declined to take up a student debt-collection case that asked the court to overrule a 1997 precedent, Auer v. Robbins, that said the judicial branch should defer to a federal agency's interpretation of its own regulations. That case is the main one a 4th Circuit Court of Appeals panel relied on when it upheld the right of a transgender boy to use the boys' bathrooms at a Virginia high school. There is no federal regulation specifically on the point, but the Education Department has issued guidance indicating that such treatment is required by the sex-discrimination prohibition in Title IX on schools receiving federal funds."
ANIMALS. Rare Sumatran rhino born in captivity at a sanctuary in Indonesia.
WATCH: Critically endangered Sumatran rhino born at sanctuary in Indonesia; fewer than 100 are left in the world.https://t.co/QQMVSeA52k

— NBC Nightly News with Lester Holt (@NBCNightlyNews) May 16, 2016
CUBA. The island nation saw its largest annual LGBT pride parade over the weekend.
https://www.youtube.com/watch?v=ytYPcfEb2V4
MALE MODEL MONDAY. Meet Scott Neslage. 
https://instagram.com/p/BFe7bzCqY6l/
https://instagram.com/p/skoqwMqYw_/
https://instagram.com/p/vUJFUXKY-D/?taken-by=scottneslage