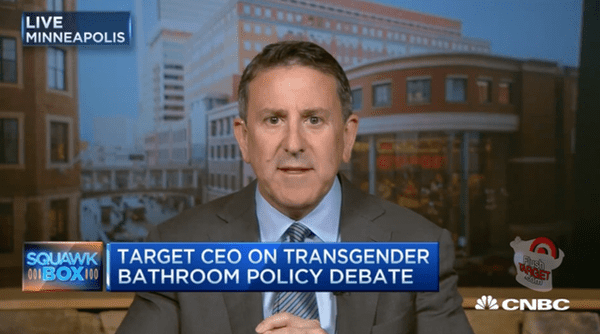 Target's CEO Brian Cornell says the company isn't backing down from its trans-inclusive bathroom policy that allows transgender people to use bathrooms in accordance with their gender identity.
The Minneapolis Star Tribune reports: 
He added the company is adding more family restrooms in its stores, an option for people who worry about the mixing of sexes in bathrooms.
Cornell made the remarks during an appearance on CNBC's Squawk Box program. He noted that more than 1,400 of the company's 1,800 stores already have family restrooms. In the next few months, Target will be put them in the rest of its stores.
"We want to make sure we provide a welcoming environment for all of our guests," Cornell said. "One that is safe, one that is comfortable."
This morning on CNBC, Cornell said the company received "quite a bit of feedback" on the issue.
"We took a stance," he said. "We're going to continue to embrace our belief in diversity and inclusion, just how important that is to our company. But we're also going to make sure our focus on safety is unwavering."
Cornell compared the move to Target's decision in the 1960s to start featuring black models in its ads:
"Back then, it wasn't well received. We had a lot of tough feedback. But sitting here today, we know we made the right decision."
Watch, below.