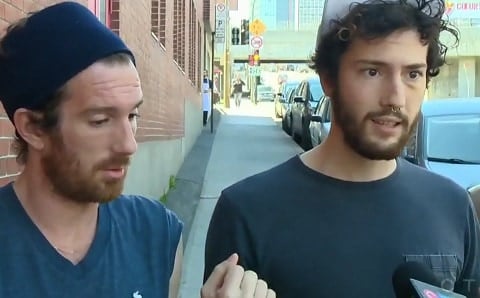 Hundreds of people took part in a Montreal kiss-in on Monday evening to support a gay couple after they were the victims of a brutal attack last week.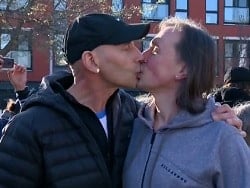 The couple, who only wanted to be referred to by their first names Simon and Sebastien, were attacked on their way to a bar in Hochelaga-Maisonneuve, Montreal.
According to Simon, their attackers said "are you faggots," to which he replied "What? Are you homophobe? Why did you say that?"
Both men were then punched in the face repeatedly. They fled the scene but were followed by one of the attackers who kicked and punched Simon.
The Monday night kiss-in was organized by the LGBT Quebec Council and the Gai Ecoute support group to denounce homophobia.
Maryse Bezaire of Gai Ecoute said:
"Often people think that we are a progressive society, often people think there's no more homophobia, but that's not the case. It's important to talk about it, it's important to reaffirm the right of everyone to show affection in public without being afraid of being a target of homophobic slurs or violence."
Gai Ecoute says it currently receives one to two calls a day reporting homophobic acts.
The couple has filed a police report but say they are more concerned with raising awareness and to let other victims of homophobia know they're not alone.
Watch a report on the kiss-in below.