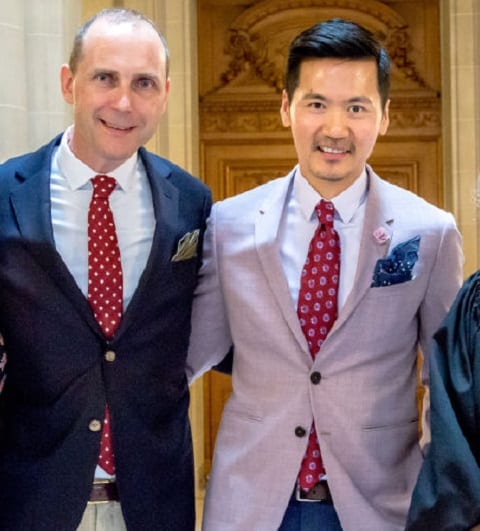 Images of the U.S. consul general in Shanghai marrying his now husband have raised eyebrows in China.
The couple were married in San Francisco and photographs of the ceremony between Hanscom Smith and Taiwan native Eric Lu appeared on the consulate's Weibo account yesterday.
The images, which later appeared on some official news and media websites, were a pointed reminder that same-sex marriage remains illegal in China.
https://twitter.com/aaronwytze/status/727691972085846016
One of the men who last year filed an ultimately unsuccessful lawsuit for the right to be married wished Smith and Lu well, adding that he hopes the visibility of the marriage would push Chinese officials to allow same-sex marriage in the future. According to The New York Times, Sun Wenlin also said that despite the court ruling in January, he and his partner, Hu Mingliang, have made plans to hold a marriage ceremony on May 17th, the International Day Against Homophobia.
In an interview, Smith said it is important for American officials "to engage with the Chinese audience directly through social media."
In September 2014, the British consul general in Shanghai married his Chinese-American partner at the British ambassador's residence in Beijing.
(Image via Weibo)