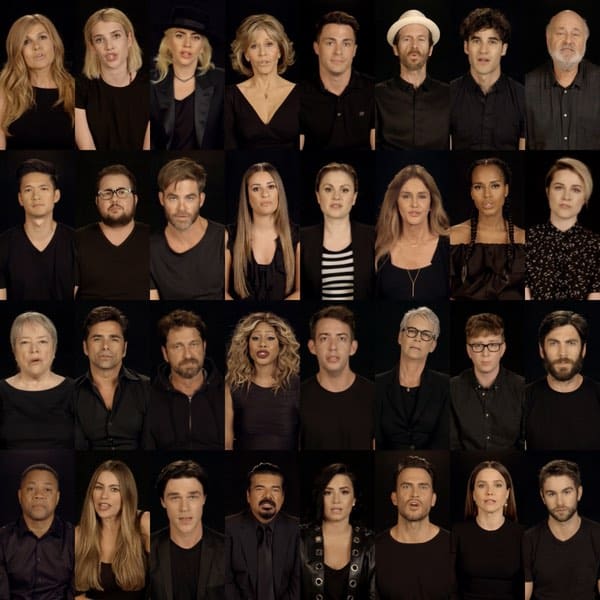 The Human Rights Campaign on Wednesday shared a video tribute to the 49 victims of the Pulse gay nightclub massacre. The video shows actors, directors and entertainment leaders sharing vignettes about each of the victims who was brutally slain on June 12, 2016.
The 18-minute tribute was directed by Ryan Murphy and Ned Martel and is meant to be a living memorial to the 49 victims, providing more information about their lives so they may always be remembered.
Murphy's involvement with the project stemmed from his desire to raise awareness about the dual epidemics of anti-LGBT violence and gun violence following the Orlando massacre.
HRC President Chad Griffin said of the video,
"The 49 heroes who lost their lives on June 12 were brothers and sisters, sons and daughters, friends and neighbors, boyfriends and girlfriends, husbands and wives. They were mostly young and mostly Latinx. But above all, they were human beings who were loved, and who had hopes and dreams for long, full lives. It has been only a few short weeks since we lost 49 people to a deadly act of hatred. It is our responsibility to keep their memories alive and honor their legacies by ensuring our nation acts to end anti-LGBTQ hate and gun violence."
Added Murphy,
"The hate that stole these 49 individuals from all those who loved them has been allowed to flourish in our country for too long. No person is born hating another, and we have an obligation as Americans to stand up against prejudice and bigotry that would incite violence against someone simply for who they are. I am proud to have joined with Ned Martel, my talented colleagues, and the Human Rights Campaign to honor these 49 heroes and stop the hate."
Here is the list of victims in the order they are recognized in the tribute: Jean Carlos Nieves Rodriguez, 27; Stanley Almodovar III, 23; Deonka Deidra Drayton, 32; Luis Daniel Conde, 39; Juan Pablo Rivera Velazquez, 37; Javier Jorge-Reyes, 40; Shane Evan Tomlinson, 33; Luis Daniel Wilson-Leon, 37; Jean Carlos Mendez Perez, 35; Alejandro Barrios Martinez, 21; Brenda Lee Marquez McCool, 49; Christopher Joseph Sanfeliz, 24; Franky Jimmy De Jesús Velazquez, 50; Juan Chavez-Martinez, 25; Jerald Arthur Wright, 31; Antonio Davon Brown, 29; Miguel Angel Honorato, 30; Anthony Luis Laureano Disla, 25; 'K.J.' Morris, 37; Edward Sotomayor Jr., 34; Frankie Hernandez, 27; Akyra Monet Murray, 18; Joel Rayon Paniagua, 31; Jonathan Antonio Camuy Vega, 24; Yilmary Rodriguez Sulivan, 24; Geraldo A. Ortiz-Jimenez, 25; Gilberto Ramon Silva Menendez, 25; Mercedez Marisol Flores, 26; Peter O. Gonzalez-Cruz, 22; Rodolfo Ayala-Ayala, 33; Paul Terrell Henry, 41; Xavier Emmanuel Serrano Rosado, 35; Tevin Eugene Crosby, 25; Amanda Alvear, 25; Eddie Jamoldroy Justice, 30; Angel Luis Candelario-Padro, 28; Simon Adrian Carrillo Fernandez, 31; Oscar A. Aracena-Montero, 26; Jason Benjamin Josaphat, 19; Leroy Valentin Fernandez, 25; Enrique L. Rios Jr., 25; Darryl Roman Burt II, 29; Cory James Connell, 21; Martin Benitez Torres, 33; Luis S. Vielma, 22; Luis Omar Ocasio-Capo, 20; Eric Ivan Ortiz-Rivera, 36; Juan Ramon Guerrero, 22; and Christopher Andrew Leinonen, 32.
The victims' stories are told by (in order of appearance): Lady Gaga, Chris Pine, Cuba Gooding Jr., Connie Britton, Matt Bomer, Sarah Paulson, Angela Bassett, Lea Michele, Colton Haynes, Sophia Bush, Jane Fonda, Harry Shum Jr., Denis O'Hare, Rob Reiner, Melissa Benoist, Caitlyn Jenner, Edgar Ramirez, Max Greenfield, Chaz Bono, Cheyenne Jackson, Emma Roberts, Kerry Washington, George Lopez, Evan Rachel Wood, Sofía Vergara, Diego Boneta, Nina Jacobson, Demi Lovato, Tyler Oakley, Yeardley Smith, Kid Cudi, Kaitlin Olson, Kevin McHale, Jamie Lee Curtis, Lee Daniels, Chace Crawford, Evan Peters, Gerard Butler, Katey Sagal, John Stamos, Laverne Cox, Jordana Brewster, Wes Bentley, Finn Wittrock, Darren Criss, Kathy Bates, Anna Paquin, Guillermo Díaz and Joe Mantello.
HRC is asking viewers to visit their Stop the Hate website and demand gun reform.
Watch the emotional tribute, below.