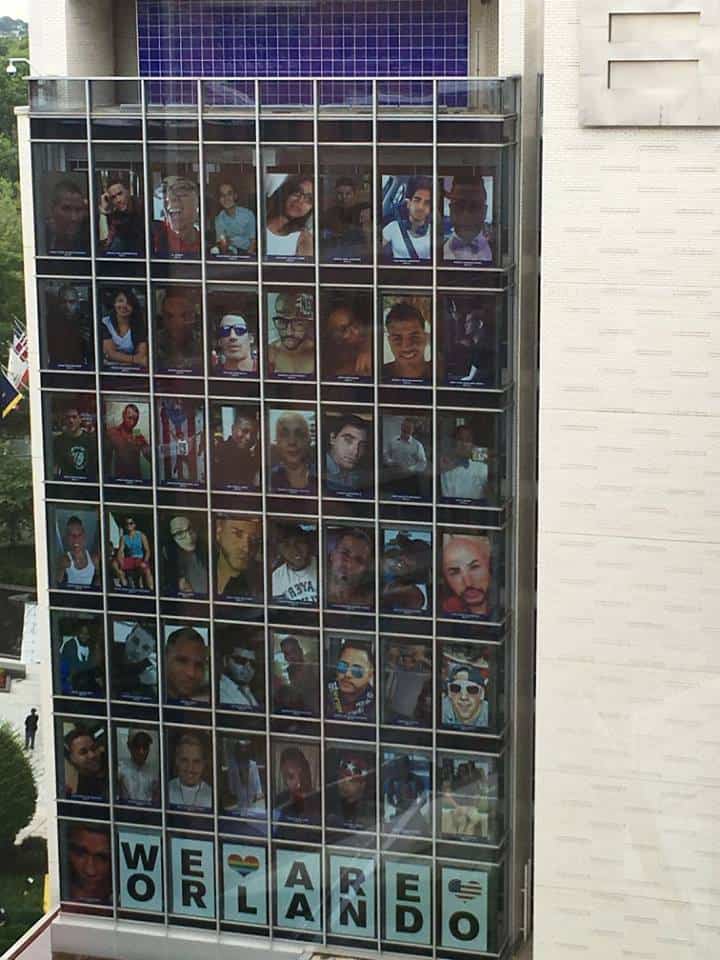 The Human Rights Campaign on Friday unveiled an eight-story tribute to the victims of the Orlando terror attack at its headquarters in Washington.
The tribute includes images of all 49 victims of the attack at Pulse Nightclub in the front windows, along with the message "We Are Orlando."
From HRC:
Additionally, HRC has put together a memorial with a wreath, flowers and a place for passers by to leave their thoughts in front of our building.
The average age of the victims' was 29. Almost every one of them was either Black or Latinx. They were someone's brother, father, sister, daughter, family and friend. They served in the military, worked at the local coffee shop, and brought joy to children's lives at theme parks. They were the people HRC fights for every single day.
As we continue to mourn around the globe, our hearts, thoughts and prayers remain in Orlando. HRC has also created an Online Vigil for the victims and survivors of the tragic Orlando attack. Here, members of the LGBTQ community and allies can send a message of comfort, solidarity, or heartbreak so we can heal – together.
Also Friday, HRC announced its formal support for "common-sense gun violence prevention measures." HRC's Board of Directors reportedly approved the resolution during a special meeting late Thursday, after the organization was criticized for failing to join dozens of other LGBT groups in signing an Arcus Foundation letter in support of gun control:
For decades, LGBTQ people have been a target for bias-motivated violence, and easy access to deadly weapons has compounded this threat. The resolution adopted in Thursday's special meeting establishes HRC's organizational position that the safety of LGBTQ people in the United States requires the adoption of common-sense gun violence prevention measures, including limiting access to assault-style rifles, expanding background checks, and limiting the ability for suspected terrorists, and those with a history of domestic abuse to access guns.
HRC President Chad Griffin issued the following statement on the resolution: "Forty-nine members of our community were murdered on Sunday morning because of a toxic combination of two things: a deranged, unstable individual who had been conditioned to hate LGBTQ people, and easy access to military-style guns. It is imperative that we address both issues in order to mitigate safety risk to our community. As a society, we must hold accountable lawmakers, religious leaders and other public officials who put a target on the backs of LGBTQ people through hateful rhetoric and legislation, because they are complicit in the violence fueled by their words and actions. The safety of the LGBTQ community depends on our ability to end both the hatred toward our community and the epidemic of gun violence that has spiraled out of control."