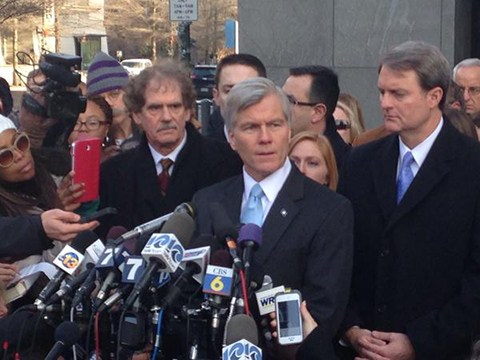 In a unanimous decision, the Supreme Court on Monday overturned the conviction of anti-gay former Virginia Governor Bob McDonnell, who had been sentenced to two years in prison for corruption. 
"Setting up a meeting, calling another public official or hosting an event does not, standing alone, qualify as an 'official act,' " Chief Justice John G. Roberts Jr. wrote for the court.
Prosecutors may seek to retry Mr. McDonnell, but under a stricter standard.
"Because the jury was not correctly instructed on the meaning of 'official act,' it may have convicted Governor McDonnell for conduct that is not unlawful," Chief Justice Roberts wrote. "For that reason, we cannot conclude that the errors in the jury instructions were 'harmless beyond a reasonable doubt.' We accordingly vacate Governor McDonnell's convictions."
"There is no doubt that this case is distasteful; it may be worse than that," the chief justice wrote. "But our concern is not with tawdry tales of Ferraris, Rolexes and ball gowns. It is instead with the broader legal implications of the government's boundless interpretation of the federal bribery statute. A more limited interpretation of the term 'official act' leaves ample room for prosecuting corruption, while comporting with the text of the statute and the precedent of this court."
McDonnell fell from grace in stunning fashion. Once a Pat Robertson-approved 'family values' Republican, McDonnell's marital troubles were laid bare in a trial that saw him pitted against his wife.
More on the backstory of McDonnell's conviction from Politico: 
A jury convicted the Virginia Republican on 11 corruption-related felony counts in 2014, including "honest services" fraud, extortion and conspiracy.
Evidence showed McDonnell and his wife accepted over $175,000-worth of loans and gifts, such as vacations, designer clothes and a Rolex watch, from a businessman seeking the state's help in promoting a tobacco-based dietary supplement. McDonnell also borrowed a Ferrari from the businessman, Johnnie Williams, who turned state's evidence and was not prosecuted.
McDonnell was sentenced to two years in prison, but never began serving the time after the Supreme Court put his sentence on hold last year.