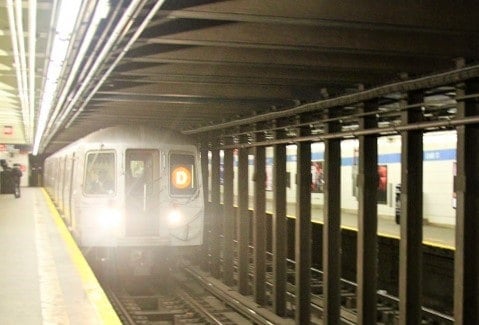 An assailant in the Bronx used a gay slur before attacking a man and breaking his nose earlier this month.
According the the 48-year-old victim, the unidentified man jumped him when he was exiting the D train station at 183rd St. near the Grand Concourse at about 11:30 p.m. on June 4. The man said "You faggots make me sick" before shoving the victim down some steps and punching him in the face and body.
Although the victim has not been identified, neighbor Evelyn Reyes told the Daily News:
"Somebody pushed him down the stairs from behind and started beating on his face. He's black and blue all around his eyes. He's a nice person. Always says good morning. He's nice."
Pix11 adds:
Both men exited the train at the 183rd Street-Grand Concourse stop. A law enforcement source said the attacker waited for the victim upstairs then, when he spotted him, pushed the victim down the stairs and kicked and punched him as he lay on the ground.
During the beating, he allegedly told the victim, "You f—ing f—–s make me sick."
The victim, a 48-year-old man, was treated for a broken nose, a cut above his eyes and numerous bruises, sources said.
The NYPD's Hate Crime Task Force is investigating the attack. No arrests have been made.
(Image via Wikipedia)