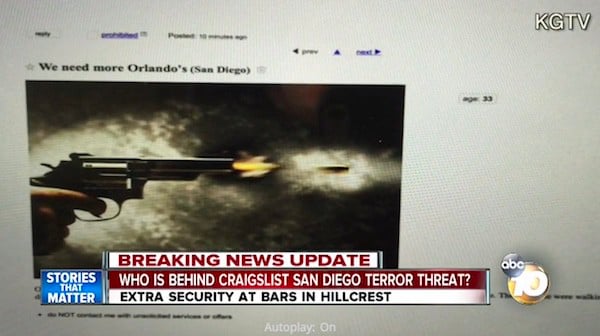 Police are investigating a threat posted to Craigslist of an Orlando-style attack against San Diego's LGBT community, ABC 10 reports:
A 10News viewer saw the post in the men-seeking-men section of the Craigslist San Diego personal ads. He took a screenshot and sent it to 10News before the post was flagged and removed.
The post is titled "We need more Orlando's (sic)," and it is accompanied by a photo of a hand firing a revolver with a bullet coming out of the barrel.
The post read: "Orlando was long overdue. Cleanse your community of the filth that gives decent gay men and women a bad name. Those people were walking diseases, bug chasers, and thank god for AIDS and 9-11 and now Orlando. San Diego you are next …"
10News sent the screenshot to the San Diego Police Department and the FBI.
SDPD Lt. Scott Wahl said the department will investigate the post.
Watch: