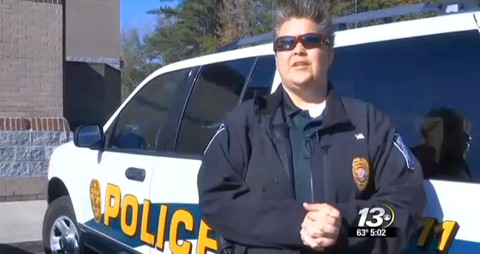 Crystal Moore, the police chief in Latta, South Carolina, who was fired for being gay in 2014, then reinstated by a vote of the town's residents, now plans to run for sheriff.
Moore is gathering signatures on a petition to appear on the ballot as a candidate for Dillon County sheriff in November. Moore needs to collect 980 signatures by July 15 to take on incumbent Douglas Purnell, who's in his sixth term.
"I'm excited," Moore told The Florence Morning News. "It's just time for a change."
Moore was fired in 2014 after Mayor Earl Bullard gave her seven reprimands in one day, the first in her 20-plus year career. But Bullard denied he fired her for being gay, even though Councilman Jared Taylor provided a recording to a TV station in which Bullard said he'd rather have an alcoholic take care of his kids than a gay person with a "questionable" lifestyle.
The town's residents and council members rallied to Moore's defense, with voters quickly approving a measure weakening the mayor's powers. When Bulllard tried to hire someone to replace Moore, the council blocked him and rehired her instead.
In November 2014, in response to the controversy involving Moore, the City Council adopted LGBT nondiscrimination protections.
Support Moore's campaign by following her on Facebook.
Watch a report on Moore's firing below.