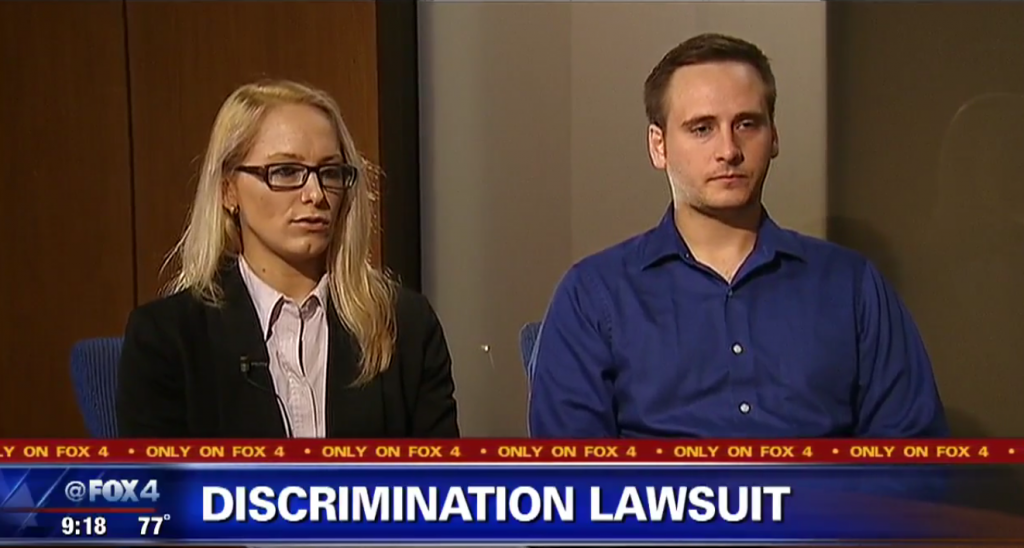 A gay corrections officer is suing a Texas county for alleged discrimination and retaliation, saying among other things that his colleagues are putting him in danger by ignoring his radio calls due to his sexual orientation.
Derek Boyd (above right), 23, said through his attorney that the problems began after he overheard two nurses at the Collin County jail refer to inmates as "faggots" and say they could not work with "faggots."
After Boyd told the nurses he was gay and offended by their remarks, one of them stopped but the other did not. When Boyd filed a complaint with his supervisor, the retaliation began.
"Despite his complaints, he has still been in the same pod with the nurse who continues to make those comments," said Boyd's attorney, Kasey Krummel (above left). "An investigation is being conducted against Officer Boyd based on the nurse's complaints that his allegations are untrue. Yet no investigation has been conducted on behalf of Mr. Boyd's complaints that the nurses are acting discriminatorily."
Boyd can only speak through his attorney because the county has barred him from publicly discussing the matter. However, he's seeking a restraining order that would allow him to do so.
More from KDFW-TV:
In the lawsuit, Boyd says he fears for his safety, claiming colleagues "intentionally disregard and ignore Officer Boyd's calls." Boyd says he was asked to take a polygraph test to prove he wasn't lying.
Boyd says he wants to stay at the Collin County Sheriff's Office and would ultimately like the department to make him an LGBT liaison for the department.
A spokesman for the sheriff's office told FOX 4 the department is aware of the lawsuit but could not comment any further since the investigation is ongoing.
It's not the first time an employee of Collin County — a conservative suburban area north of Dallas — has alleged anti-gay discrimination. In 2008, the county removed its teen court coordinator after he came out as gay, resulting in a settlement.
Texas has no statewide law prohibiting anti-gay job bias, but based on longstanding legal precedent, LGBT government employees are covered under the 14th Amendment's guarantee of equal protection. Federal courts have also recently ruled that Title VII of the Civil Rights Act of 1964 prohibits discrimination based on sexual orientation.
Watch KDFW-TV's report below.