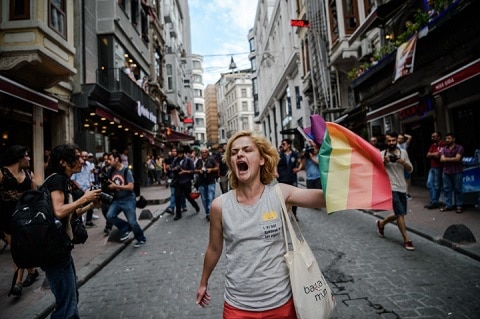 Police in Istanbul detained 19 people, including two German politicians, at last weekend's banned Pride event.
Last week, police fired teargas and rubber bullets to disperse crowds attending another LGBT march citing. That march had been banned "for the safety of our citizens, first and foremost the participants', and for public order."
Small but noisy group of #IstanbulPride participants defying police pic.twitter.com/l6CMsUW8Nr

— Mark Lowen (@marklowen) June 26, 2016
Volker Beck, a German lawmaker, was briefly detained while preventing police from arresting a Turkish gay rights activist trying to read a statement. He said he had been the victim of "a massive and arbitrary police attack."
https://twitter.com/JM_Beck/status/747053724917506048
According to Buzzfeed, European Member of Parliament (MEP) Terry Reintke was also arrested. Reintke said that she was released when police realized she is an MEP. Max Lucks, the speaker of the Green Youth Group in the German state of North-Rhine Westphalia, and Felix Banaszak, the Green party speaker in Duisburg, were also arrested. Authorities refused to release Lucks or Reintke's assistant.
I was released. @max_lucks and @fbanaszak are still detained. We are fighting for their release. #IstanbulPride

— Terry Reintke (@TerryReintke) June 26, 2016
In a statement, Turkish gay rights activists said "Those who banned our march used 'society's sensitivities' as an excuse but what's being guarded is not society's, but the government's sensitivities."
We utterly condemn the actions of the Turkish authorities in suppressing #IstanbulPride. This is ugly, state sanctioned homophobia.

— NXF (@nxfie) June 27, 2016
Istanbul's annual pride parade is thought to be the biggest in the Muslim world. Gay pride parades have been held in the city since 2003 but last year's march was broken up by police.
https://twitter.com/tunggalp/status/747089006962315264
Watch a Reuters report below.
(Image via Twitter)
https://www.youtube.com/watch?v=udLKYXYIcOM