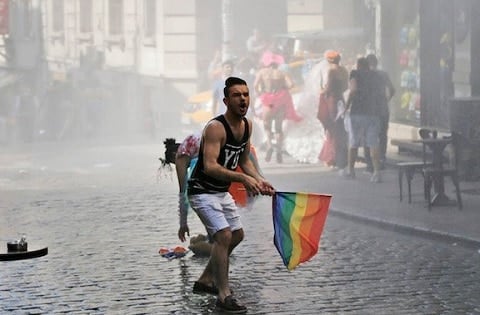 Police in Istanbul, Turkey have fired teargas and rubber bullets to disperse crowds attending a banned LGBT march yesterday.
A press statement from the Istanbul governor's office said the march was banned "for the safety of our citizens, first and foremost the participants', and for public order."
Istanbul bans gay pride https://t.co/BzVqh5HaSt

— The Independent (@Independent) June 18, 2016
Istanbul's annual pride parade is thought to be the biggest in the Muslim world. Gay pride parades have been held in the city since 2003 but last year's march was broken up by police.
Istanbul riot police break up 'Trans Pride' march via @RTENewsNow https://t.co/huXRLWHsgP

— Colm O'Gorman 🏳️‍⚧️🏳️‍🌈 (@Colmogorman) June 19, 2016
Police cordoned off Taksim Square to prevent the Trans Pride rally taking place during Ramadan following complaints from ultranationalists angry that "degenerates" were going to demonstrate.
Ebru Kırancı, a spokeswoman for the Lambdaistanbul LGBTI Solidarity Association, said: "Football fans can rally in this country whenever they want. We were going to do a peaceful activity. [The] holy month of Ramadan is an excuse. If you are going to respect Ramadan, respect us too. The heterosexuals think it's too much for us, only two hours in 365 days."
…Homosexuality is not a crime in Turkey, unlike many other majority-Muslim countries, but hostility towards gay people remains widespread. Critics say [President Recep Tayyip Erdoğan] and his conservative Justice and Development party have shown little interest in expanding rights for minority groups, gay people and women, and accuse them of being intolerant of dissent.
Last Friday, a gang attacked a music store in the city where people had gathered to listen to Radiohead's new album in protest of people drinking alcohol during Ramadan.
'Pleads "Please, I beg you" – then the police fire the tear gas'#IstanbulPride montage via SVT. Their title. pic.twitter.com/QEX8ImKH3Q

— b9AcE 🐊 (@b9AcE) June 19, 2016
Mis Sokak'a polis saldırısı pic.twitter.com/oPqcyCRRl9

— Funda Eryiğit (@fundaeryigit) June 28, 2015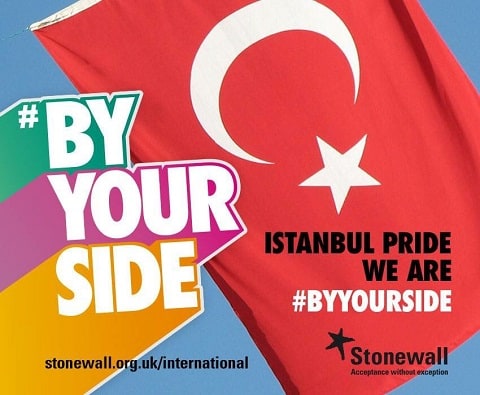 (Image via Twitter)