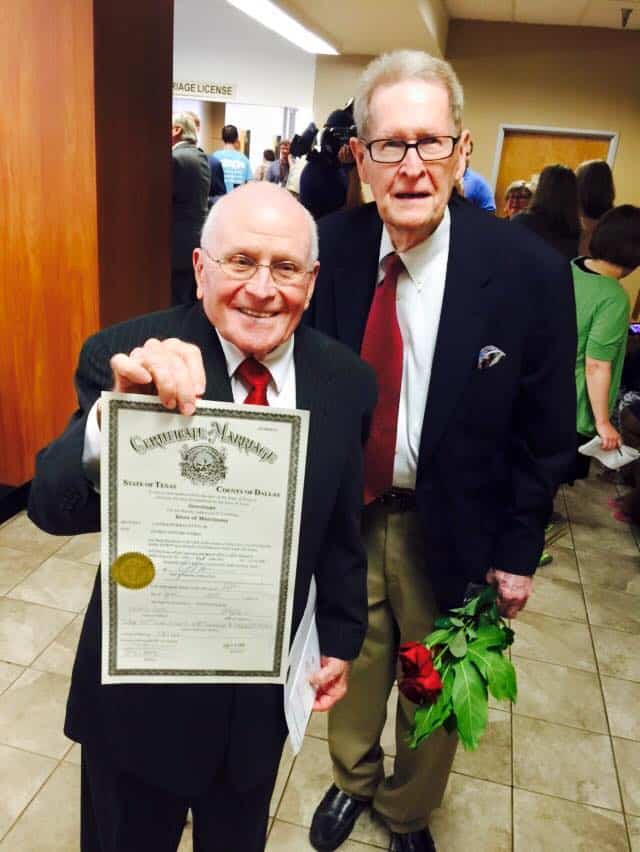 Jack Evans (above right), 86, a pioneering gay Dallas activist who married his partner of more than half a century on June 26, 2015, has died just days before their first wedding anniversary.
Evans and George Harris — who met in 1961 — were featured in national media outlets after they became the first same-sex couple to legally marry in Dallas County.
The couple, who worked together in real estate, founded what is now the North Texas GLBT Chamber of Commerce. They've also been involved with numerous other LGBT groups, including most recently The Dallas Way: The Dallas GLBT History Project.
D Magazine reported in 2014:
Evans was fired from Neiman Marcus in Houston for being gay, and Harris was thrown out of the CIA in Northern Virginia. "I came to Dallas in '56," Harris says, "and it was locked down tight. There wasn't any gay movement that I knew about."  …
Over five decades, Evans and Harris, who are both in their 80s, have seen marked changes in Dallas' gay community. They saw people get arrested in the '60s at house parties. They saw people circle the block in the '70s before entering Metropolitan Community Church for fear of getting arrested. They saw more than 100 friends die of complications from AIDS in the '80s. …
"Our real focus has been our legacy for the community, that our whole lives have been trying to improve, to encourage the young people to make a difference," Harris says. "They think they can walk down Cedar Springs holding hands, and it's just automatically come to that, but there was a lot of struggle to get there."
The Rev. Eric Folkerth, pastor of Northaven United Methodist Church, where Evans and Harris were members, wrote Friday morning:
I'm sorry to inform you that Jack Evans died last night, at Baylor Hospital. As many of you know, Jack had been fighting lung issues for some weeks, and was never able to overcome them.

George and I prayed with Jack before his death, and he was definitely at peace at the end.
A memorial service will be held at Northaven soon, and we will definitely announce the time and date when it is available.
Jack and George had a remarkable 56 years together. Jack was gregarious, funny, a strong believer in social justice, and a mentor to generations of LGBTQ people, and their straight allies. He lived through remarkable social change for LGBTQ people, marveled at those changes, and was a key part in those social changes happening.
To see the care that he and George gave to each other, not only on every average day, but also in the quiet of a hospital room, was an inspiration to me on countless occasions.
Please pray for George, and for all of us who were a part of his extended family.
Watch video of Evans' and Harris' wedding ceremony below.