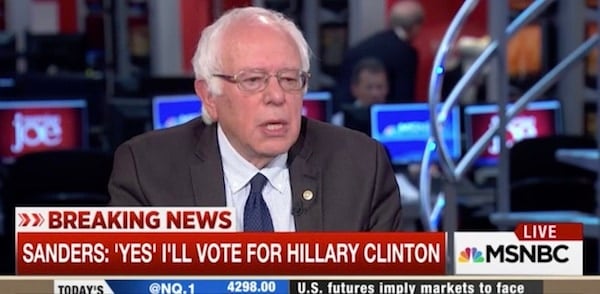 Bernie Sanders says "Yes", he'll vote for Hillary Clinton in November. Sanders made the comments during an interview on MSNBC this morning.
Watch:
Sanders also spoke about what he'll be doing between now and November: working on the Democratic platform.
He echoed the sentiments in a speech on Thursday night in New York, Politico reports:
When it came time to specifically discuss the topics that he wants to see on the official Democratic platform, Sanders sounded a slightly conciliatory note, only listing issues that have been far from flashpoints in his year-long contest against Clinton: killing the Trans-Pacific Partnership trade agreement, banning the sale of assault weapons, ending the gun show loophole, and expanding instant background checks.
That non-confrontational approach followed a Washington Post op-ed Sanders published in the morning which heartened Clinton-allied Democrats because it omitted a number of issues where he and Clinton have bitterly clashed — from a $15 federal minimum wage, to a ban on fracking, to single-payer healthcare, to tuition-free college, to a carbon tax.
The conflicts over those issues, however, haven't gone away. His speech was peppered with references to those policy points.