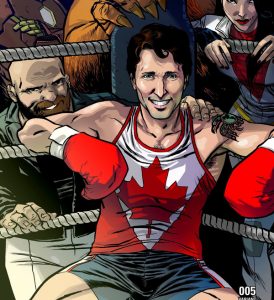 OH, CANADA. We need to talk about Marvel's Justin Trudeau comic. 
HILLARY CLINTON. HRC chats with YouTube creators, praises work they have done to help victims of bullying in the LGBT community: "I know from the little bit of information I have in the briefing, some of you have kept people alive—because you have been able to communicate with a person who was bullied; or a young person who was struggling with their sexuality and feeling all alone; and you were able to give that person a sense of survival and a feeling they weren't by themselves."
WATCH WHAT HAPPENS LIVE. John Mayer tells Andy Cohen he's single and ready to mingle. 
SUICIDE. New report finds it is the second leading cause of death among America's teenagers: "Suicide risk factors listed include a history of physical or sexual abuse, mood disorders, drug and alcohol use, self-harm, being LGBT, and bullying, including cyberbullying. Firearms in the home may also increase risk of suicide…"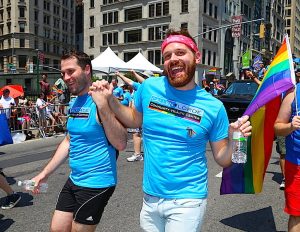 PRIDE. Matthew Rettenmund of Boy Culture has the photo recaps you need from last weekend's NYC Pride. 
THE LAST TYCOON. Matt Bomer looks dapper promoting his new project.
SPIDEY SENSES. Tom Holland seen on set of new Spiderman reboot wearing his spidey suit.
LATE NIGHT. Jessica Williams is leaving The Daily Show. 
A GAY. Find out who made this year's Pride Power List. 
SHAME. House to consider federal 'religious freedom' bill on the one month anniversary of the Orlando massacre: "Rep. David Cicilline (D-R.I.), who's gay and a co-chair of the LGBT Equality Caucus, denounced the committee's decision to hold a hearing in a statement as 'nothing more than an election-year stunt to rally conservatives at the expense of LGBT Americans.'"
CRIME. Man hurt in suspected homophobic attack after Pride event in Dublin, Ireland: "It is understood that the victim, said to be in his late thirties, was struck once in the attack on Dame Lane and fell to the pavement. Gardaí do not believe that the attacker was known to the victim prior to the assault. Gardaí are looking at a number of different enquiries – it is understood the attack was not linked to the Gay Pride events that took place in the city centre earlier that day."
REP. STEVE KING: 'If Everybody Had A Gun At Orlando Club, I Don't Think Anybody Would Have Gotten Shot.'
INSTASTUD. Go go boy Ben Reznik.