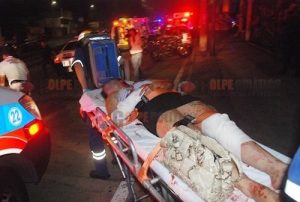 MEXICO. A gay bar in Mexico was massacred only weeks before Orlando's Pulse nightclub was targeted: "On May 22nd gunmen stormed into La Madame gay bar in Xalapa, in the state of Veracruz, and sprayed bullets into the crowd of 200 patrons. Unofficial reports and a raft of eye-witness accounts put the number of dead at around 15 people. Official sources say this number sits at 7 dead and 12 injured."
CONGRESS. Anti-gay GOP congressman unrepentant for fomenting hatred towards LGBT people: "U.S. Congressman Rick Allen, a Republican of Georgia, in the aftermath of the terror attack on LGBT people in Orlando has no regrets and is not about to offer apologies for choosing to read Bible passages that condemn gay people as "worthy of death" at a GOP meeting with fellow lawmakers last month."
VICTIMS' FUND. Ellen designs t-shirt to support Orlando victims and their families.
TRANSGENDER STUDENTS. Philadelphia School Reform Commission adopts a new policy for transgender students: "Every student deserves to know their rights will be recognized and upheld at school. This policy provides clear guidance and will help to ensure that our schools remain welcoming to all of our students."
MUSIC VIDEO. Calvin Harris and Rihanna's "This Is What You Came For."
FLASHBACK FRIDAY. Remembering NYC's gay bathhouse fire of 1977: "No one knows exactly how many men were inside the Everard Baths in the early morning hours of Wednesday, May 25, 1977. Maybe there were 80 to 100, as the building owner estimated later. Maybe there were more."
SWITZERLAND. Country's parliament votes in favor stepchild adoption.
GUNS. Florida Governor Rick Scott: "We all can agree that, you know, we don't want somebody that's gonna do something like that to be walking around with any weapons, but the Second Amendment didn't kill anybody."
BROADWAY. Hamilton's Phillipa Soo to star in Amelie the musical.
OOPS. Justin Bieber fell into a hole on stage in Saskatchewan, Canada.
THE FRONT PAGE. How media coverage of the Orlando massacre evolved as events unfolded. 
RIO OLYMPICS. Russia's track and field team has been barred from competing at the upcoming summer games over doping scandals: "While barring Russian track and field athletes from competing in the Olympics, the IAAF left the door open a crack for the few that can prove beyond a shadow of a doubt that they're clean, to compete as a neutral athlete."
SAY THE NAMES. Taylor Swift posts message of support for the victims and the families of victims of the Orlando massacre: "As you bury your loved ones this week, please know that there are millions of us sending you love and our deepest sympathy in the face of this unthinkable and devastating tragedy." Swift had been criticized by some for remaining silent on social media this long.
https://www.instagram.com/p/BGxZM-nDvAB/
FASHION. Raf Simmons pays tribute to Robert Mapplethorpe in new collection: "Much of the initial goggling and giggling was over the explicitly erotic pieces, but the show had the scope of a complete catalog. Many of the most famous photos were here: portraits of Patti Smith, Debbie Harry, Robert Sherman and Alice Neel; Mapplethorpe's leather-gloved hand from the invitation to a major exhibition; the flowers; the classical statuary."
Raf Simons salutes Robert Mapplethorpe, a fellow provocateur https://t.co/mJAletgmzp pic.twitter.com/EBIXqPqmGE

— NYT Fashion (@NYTFashion) June 17, 2016
ORLANDO DONATIONS. IRS warns of scams: "While there has been an enormous wave of support across the country for the victims and families of Orlando, it is common for scam artists to take advantage of this generosity by impersonating charities to get money or private information from well-meaning taxpayers. Such fraudulent schemes may involve contact by telephone, social media, e-mail or in-person solicitations."
TWITTER. Billy Eichner and Ross Mathews got into something of a spat on social media Friday.
Yet another Billy on the Street ripoff. I usually ignore but this one is SHAMELESS and PATHETIC. (And not funny). https://t.co/y2BtoQa6in

— billy eichner (@billyeichner) June 17, 2016
CHRIS HEMSWORTH. The cast of Ghostbusters share how annoyingly talented, handsome and nice the 'Avenger' truly is.