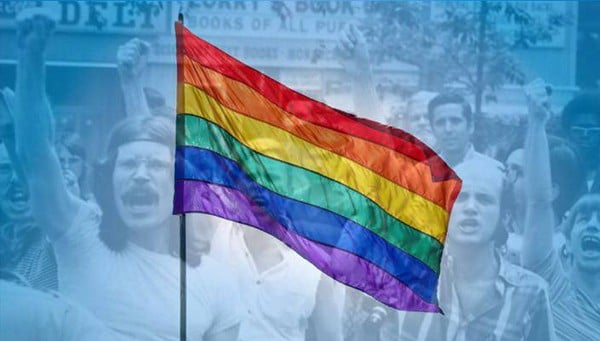 As news of the Orlando shooting unfolded earlier this week, Washington DC residents were hit with two instances of anti-gay vandalism in the district.
In Adams Morgan, somebody burned and destroyed a rainbow flag at Bourbon restaurant; in Dupont Circle, someone sprayed "down with the gay agenda" on the sidewalk in front of another restaurant, Thaiphoon.
Thaiphoon's owner Sapol Jirapanjavat  told the Washington Post that the vandalism raised new worries following Sunday's mass shooting. He tried unsuccessfully to remove the graffiti with paint thinner. Then, a man named Dito Sevilla changed the hate message into an anti-gun call-to-action: he painted the word "gun" over "gay" and changed the meaning to "Down with the gun agenda." A police spokeswoman told the paper an investigation was underway.
Graffiti in DuPont circle Washington, D.C. 😫 please someone come add the word "Get" to the front pic.twitter.com/2vLZRJwY0t

— Stephen Solka (@trashhalo) June 13, 2016
.@MayorBowser, .@DDOTDC I'm sorry I had to paint over this sidewalk vandalized with hate speech. #StrongerTogether pic.twitter.com/55RgVBtmKK

— Dito Sevilla (@DitoDC) June 13, 2016
Bourbon's owner James Patrick Woods said he was appalled  by the flag incident and called it a hate crime. "I wish Washington, D.C. police would have responded quickly, but it didn't really seem like that happened," he told Metro Weekly. 
But the local LGBTQ community did respond. Local residents decided to stage a "gay-in" and present him with a new rainbow flag Friday evening, in an act of solidarity.
The Facebook invite read:
In response to the burning and desecration of the rainbow flag outside of Bourbon Adams Morgan, we are doing a "gay-in" at the establishment starting at 8pm. Please join us in solidarity as we present them a new flag and express our uninhibited love for each other and the community.
One of the organizers Morgan Tepper (who also goes by DJ Lisa Frank) explained it to community news blog Bordestan: "The main goal of this is to make people feel OK and not be scared," Tepper said. "When you get scared, it's very detrimental to a community."
After the ceremony, queer DJs will share the turntables with the bar's regular DJ, to show unity and spread some LGBTQ love.
"We're going to just be there and show solidarity and strength at a scary time for our community," Tepper told Metro Weekly. "We're not going to be obnoxious and mean, or disrespectful to any of the other patrons, whether they're gay or straight. It's just showing we can coexist together and it's fine. We shouldn't let some jerk scare us away from being where we want to be."
Photo credit: Gay-In at Bourbon/Facebook