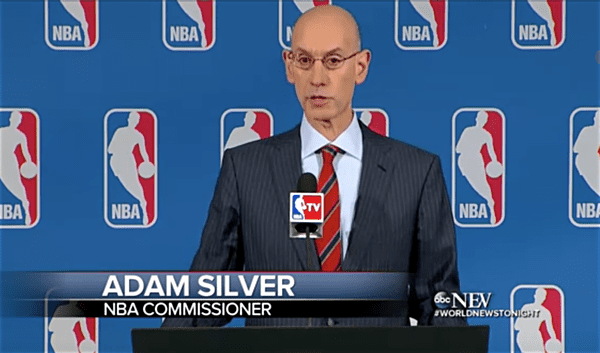 In a joint statement released on Thursday, the NBA and the Charlotte Hornets declared they do not support the current draft legislation in the North Carolina House which would revise HB 2, the state's anti-LGBT 'bathroom bill.'
Earlier reports indicated that the legislation revising HB 2 was introduced amid pressure from the NBA as North Carolina is set to host the 2017 All-Star Game in Charlotte.
From the joint statement, it appears that neither the Hornets nor the NBA believe the revisions go far enough in addressing concerns over anti-LGBT discrimination.
"We have been engaged in dialogue with numerous groups at the city and state levels, but we do not endorse the version of the bill that we understand is currently before the legislature.  We remain committed to our guiding principles of inclusion, mutual respect and equal protections for all.  We continue to believe that constructive engagement with all sides is the right path forward.  There has been no new decision made regarding the 2017 NBA All-Star Game."
.@hornets statement on #HB2: pic.twitter.com/LBK7Pk89yR

— WCNC Charlotte (@wcnc) June 30, 2016
The Human Rights Campaign blasted the proposed changes as paltry earlier in the week. HRC President Chad Griffin dubbed the proposed bill 'HB 2.0':
"Anyone who cares about equality must reject this ridiculous proposal out of hand. This despicable bill would continue insidious policies targeting LGBTQ people for discrimination and do nothing to fix the mess HB2 created. It's past time for North Carolina lawmakers to listen to the overwhelming chorus of voices from across North Carolina and around the country calling for full repeal of this hateful law."
Earlier Thursday, the Human Rights Campaign, Equality North Carolina, National Center for Transgender Equality, and NAACP North Carolina wrote to NBA Commissioner Adam Silver [above] "to share [their] concerns about the NBA's evolving posture toward HB2 and other proposals targeting LGBTQ and other people across the state of North Carolina for discrimination."
LGBT advocates have blasted the draft proposal, saying that, rather than repealing language opposed by LGBT groups, the new bill actually could make things worse.
"It is easy to march alongside the LGBTQ community in a parade. But whether you stand shoulder to shoulder with us when we are under attack will be the true measure of your leadership," the groups wrote to Silver in Thursday's letter.
NBA Commissioner Adam Silver has previously said the league would consider moving the All-Star Game from Charlotte if lawmakers didn't change HB 2.