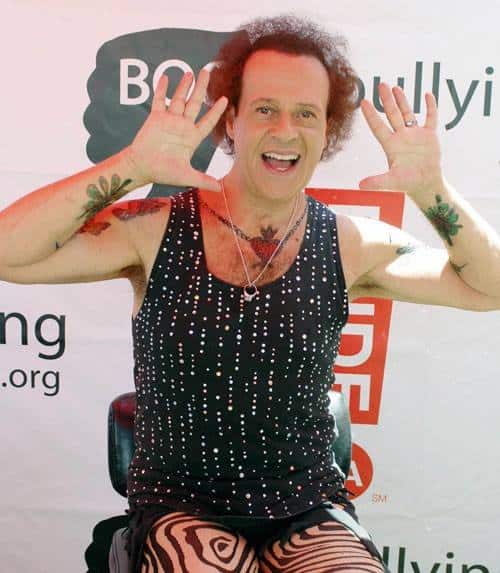 A representative of celebrity fitness trainer Richard Simmons has denied that Simmons is transitioning to become a woman.
A statement was issued by rep Tom Estey on Wednesday in response to a report from tabloid The National Enquirer which ran a cover story with the headline, "Richard Simmons: He's Now a Woman!"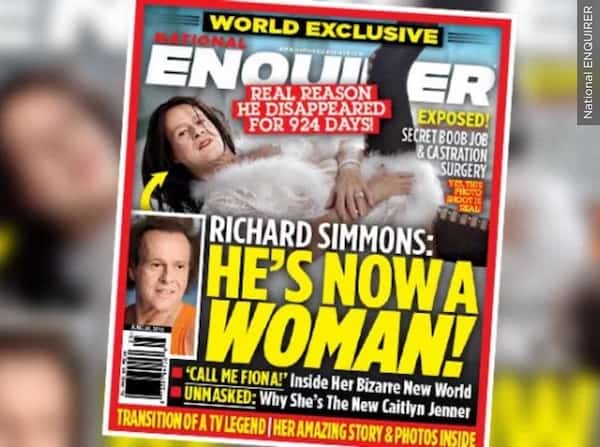 Radar Online made similar claims, suggesting Simmons had been spotted "dressing as a female on occasion."
The tabloids also speculated about the reason behind Simmons' trip to the hospital last Friday. Simmons and his rep say he was treated for dehydration. Simmons has been reclusive in recent years after suffering a knee injury and having knee replacement surgery.
"It's not true," Simmons' rep Tom Estey tells PEOPLE in response to reports about the fitness guru. "He is not transitioning into a woman. He has decided to live quietly the last few years. He had knee surgery a few years ago and has a bum knee. He is still on Twitter and Facebook and works behind the scenes continuing to inspire and motivate people to lose weight. When he decides to come back, he will come back."
Estey adds, that Simmons "was in the hospital over the weekend for dehydration and was out the next day. He's a human being. He was in the public eye for over three decades, but he deserves his privacy. He should be able to have a private life. He just needed a break. He is still taking care of the people who need his help."
Simmons thanked fans for their support, writing on Facebook, 
"Thank you to everyone who has reached out with love and concern after hearing I was in the hospital. I was dehydrated and needed some fluids and now I am feeling great! Summer is here – drink plenty of liquids. Big hugs and kisses for caring. <3″
Watch a report from PEOPLE, below.