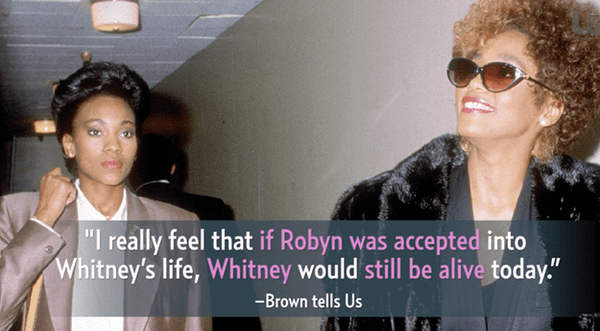 Whitney Houston was bisexual according to her former husband Bobby Brown, who is coming forward to reveal intimate details about his life with Houston in a new tell-all book.
Whitney Houston was long rumored to have had a secret same-sex romance with her best friend and assistant, Robyn Crawford, and Bobby Brown tells Us Weekly in the new issue that it's all true.
"I know," Brown, 47, tells Us exclusively of his ex-wife's relationship with Crawford, 55. "We were married for 14 years. There are some things we talked about that were personal to us." Houston and Crawford met as teens when they both worked at a community center in East Orange, New Jersey, and Crawford became her assistant and later creative director, traveling the world with the Bodyguard star.
Brown insists that Houston was bisexual and not a lesbian. "I'm a man and she was attracted to me!", he says.
Brown believes that Houston, denied her relationship with Crawford while alive because she knew her family would disapprove. In 2013, Houston's mother Cissy Houston told Oprah she would "absolutely" have been disappointed if her daughter had come out to her as gay.
It was the lack of acceptance that Brown believes may have been fatal to Houston. Brown tells Us, "I really feel that if Robyn was accepted into Whitney's life, Whitney would still be alive today. She didn't have close friends with her anymore."
Watch a video from Us on Brown's relationship with Houston, below.