TODAY. Strawberry moon: "'Strawberry Moon' is the nickname given to the full moon in June not because of its color, but because it falls at the height of the strawberry harvesting season, according to the Farmer's Almanac. In certain parts of the world it was called "Rose Moon," "Long Night Moon," "Hot Moon," or "Honey Moon," the latter because it falls during a popular month for weddings. A Strawberry Moon falling on the same day as the solstice is a very rare event—the two last coincided in the Northern Hemisphere in 1967, at the beginning of the Summer of Love."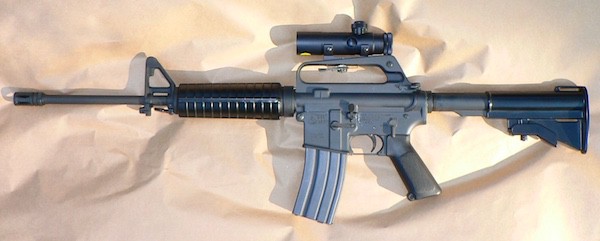 AR-15 Sporter SP1 Carbine per Gun News Daily (CC BY-SA 3.0)
TODAY. Senate to vote on gun control measures based on terrorist watch lists: "It's not clear how much lifesaving impact the new legislation would have, even in the unlikely chance that either one passes because, relatively speaking, so few gun deaths come from terrorist attacks1 and background checks are so easy to evade at gun shows and on the internet. (Terrorists increasingly are turning to guns, though, and have used them in three mass shootings over the last 12 months: Orlando, the Charleston church shooting and San Bernardino.) But the plans would give new prominence to the government's terrorist list, officially known as the Terrorist Screening Database. And that database has been the subject of intense debate over its accuracy and usefulness."
TECH. Apple blocks rifle emoji from iPhones: "The gun had been proposed as part of a set of new icons representing winter sports (as was the curling stone emoji and a sled emoji, both of which have been approved). Rifles are used in the biathlon, which combines cross-country skiing and shooting at a target."
SCOTUS. Supreme Court refuses to hear Second Amendment challenge to Connecticut law banning semiautomatic rifles. "The decision not to hear the case, not long after the mass shooting in Orlando, Fla., does not set a Supreme Court precedent. But it is part of a trend in which the justices have given at least tacit approval to broad gun-control laws in states and localities that choose to enact them."
TRUMPMERGENCY. 1,000 people call in to GOP conference call to unbind delegates: "Organizers say more than 1,000 people, including GOP delegates, alternates and other supporters, dialed in for a conference call on Sunday night to hammer out details for a last-ditch, sweeping rules change that would unbind delegates at the Republican National Convention and deny Donald Trump the presidential nomination. This was the group's second conference call in four days, following a Thursday night call with about three dozen delegates. This effort is spearheaded by two Colorado delegates."
DEPARTING. Trump parts with campaign manager Corey Lewandowski: "The Donald J. Trump Campaign for President, which has set a historic record in the Republican primary having received almost 14 million votes, has today announced that Corey Lewandowski will no longer be working with the campaign," the campaign spokeswoman, Hope Hicks, said in a statement. "The campaign is grateful to Corey for his hard work and dedication and we wish him the best in the future."
WALK OF FAME. Someone sprayed a mute symbol on Donald Trump's star.
GRANDPARENTS. Hillary and Bill Clinton share photo of new grandson.
NO FEAR. Gay bars see increased security and customers after Orlando attack. "In New York City, the Monster in Greenwich Village used metal detector wands and searched patrons' bags. The gay bar is across the street from the historic Stonewall Inn, site of riots in 1969 that sparked the gay rights movement in the USA. 'We're just trying to stay positive and not let the fear take over,' said Rodrigo Dasilva, manager of the Monster."
RITCHIE TORRES. Gay NYC City Councilman to introduce bill to help LGBT New Yorkers with mental illness: "Bronx Democrat Ritchie Torres, one of seven openly gay Council members, said he will introduce the bill on Tuesday. It will require the Department of Health to develop a plan to deal specifically with high rates of mental illness around gay and transgender youth and senior citizens."
TRAILER OF THE DAY. HBO's Westworld.
BECAUSE OF COURSE. Chewbacca Mom got her own custom action figure from Hasbro. "The Internet star visited Hasbro headquarters with her family and was presented with her very own one-of-a-kind toy by Hasbro Chief Executive Officer Brian Goldner. The figure maintains Chewbacca's body from the neck down, but the head is modeled in the likeness of Payne — and it even comes with a removable Chewbacca mask."
AMERICA'S GOT TALENT. Vaping.
WILD WEATHER. Some bros took a video of furniture flying off a building during a recent thunderstorm in Miami.
MONDAY MUSCLE. Fitness trainer D'Juan Woods.