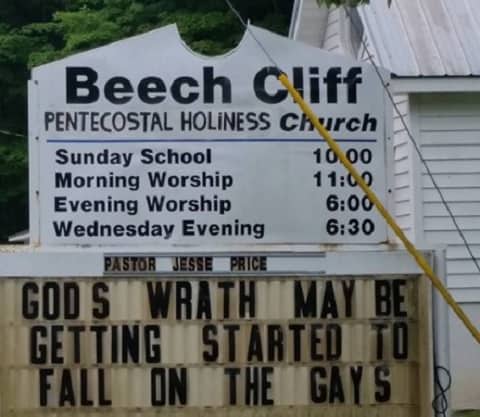 A Tennessee church pastor has denied claims that a sign warning that "god's wrath" will soon condemn gay people was a response to the massacre in Orlando in which 49 people died.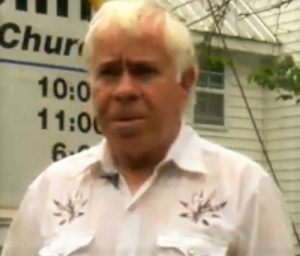 Pastor Jesse Price (right) of Beech Cliff Pentecostal Holiness Church, Johnson City, Tennessee displayed the message "God's wrath may be getting started to fall on the gays."
However, Price – who claims to have LGBT friends – said the sign should not be seen as offensive to gay people.
NBC affiliate WCYB reports:
Pastor Jesse Price said this isn't the first time he has posted a message geared toward the LGBT community.
"We are not trying to kill them.  I've had a lot of signs up here that homosexuals need to be saved but they didn't say anything about that one the only thing I said here in this one that god's wrath looks like it's going to start being poured down on the gays."
He said the sign should not be taken offensively, but alliances of the LGBT community feel differently.
Homosexuals got shot down in Florida. It looks like God's wrath is about to start pouring down on the gays. Christian Pastor Jesse Price

— RELENTLESSLY Gay (@queertardo) June 19, 2016
"I have close friends who identify as gay or bisexual or transgender and I am imagining the pain that they feel every time they see a message that is condemning of them," said Kim Bushore-Maki, an alliance of the LGBT community.
Bushore-Maki said Pastor Price needs to be more careful when choosing what he posts on the church sign.
Watch the WCYB report below.
(h/t jmg)