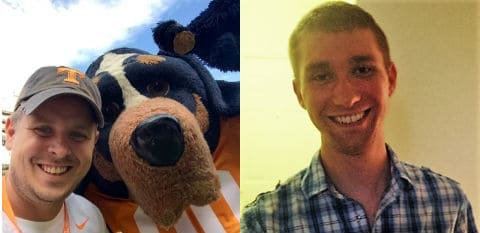 Two gay rights activists have filed a lawsuit claiming their constitutional rights are violated by a new state law allowing mental health counselors to refuse patients because of "sincerely held principles."
Filed on Tuesday, the lawsuit requests the statute be voided because it violates the state Constitution and the U.S. Constitution's 14th Amendment guaranteeing equal protection to all citizens under the law.
Reuters reports:
The law protects therapists and counselors from legal action when they cite their personal principles in refusing service, despite a provision in the American Counseling Association's code of ethics barring members from such denials of service.
In the lawsuit, [plaintiff Bleu Copas (above left)] says he is a homosexual man and a resident of Anderson County, Tennessee, while [co-plaintiff Caleb Laieski (above right)] says he is homosexual and describes himself as a national lesbian, gay, bisexual and transgender rights activist residing in Alexandria, Virginia.
As the AP notes, Copas was discharged from the Army under "Don't Ask, Don't Tell."
https://twitter.com/CalebMLaieski/status/740304394923741185
Jennifer Donnals, press secretary for Tennessee Governor Bill Haslam, refused to comment on the lawsuit.
In April, Tennessee lawmakers approved a bill making the bible the "state book."
Watch a video report by Wochit and Laieski's 2011 It Gets Better video, below.
https://www.youtube.com/watch?v=bpCQGaF1660
(Caleb Laieski and Bleu Copas images via Twitter)