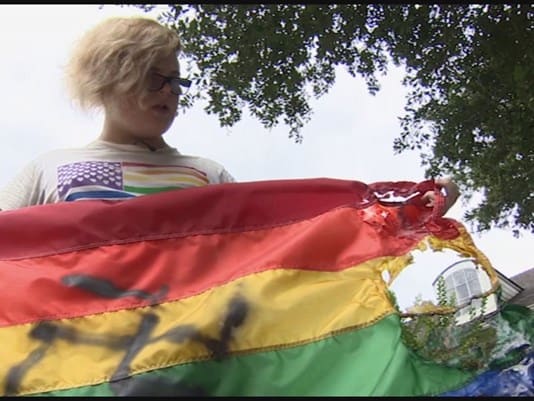 One gay Texas man's tribute to victims of the Orlando terror attack has been repeatedly vandalized in an apparent hate crime.
Scout Register, 20, erected a rainbow flag outside his family's home in Tomball, a conservative suburb of Houston, in the wake of the attack. But less than 24 hours later, the flag was stolen.
Register, a student at Texas Tech University, immediately replaced the flag. "You can take my flag, but you're not going to take my pride," he told KHOU-TV.
But the second flag was also stolen, and this time it was returned hours later — cut, burned and spray-painted with a swastika.
"They threw the flag out and were yelling gay slurs and other profanities, honking and screaming," Register said.
Register posted a photo of the desecrated flag that's been shared more than 3,200 times on Facebook.
"This kind of backfired for them," he said. "Now I feel stronger than I did before. … This just makes me want to put out as many flags as I can. You're not going to stop me."
Watch KHOU's report below.