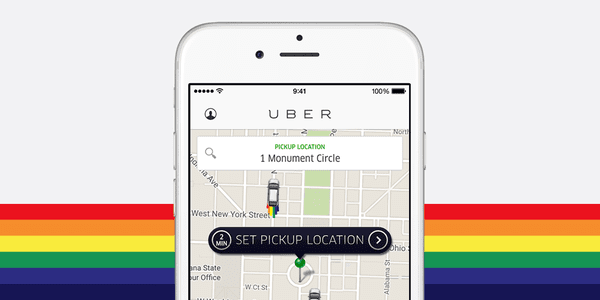 Uber is offering free rides in 40 cities to LGBTQ centers and select historical sites and bars this weekend. Each person is eligible for up to two $20 rides, the transportation service announced on Friday.
CNN reports, "The discount goes into effect on Friday at noon and lasts through Monday evening. It will automatically be applied when riders begin or end a ride at one of the selected destinations."
The free rides are being doled out following the Orlando massacre at gay nightclub, Pulse, which left 49 club-goers dead.
The discount does not apply in Orlando, however, because Uber has already been closely coordinating with authorities in that city to provide free rides for family members of the victims who traveled there after the shooting.
In the other 40 cities the companies chose, local teams were tasked with choosing a number of locations that were of cultural and/or historical value to the LGBTQ community. In Washington, D.C., for example, venues include Nellies, Cobalt, The DC Center, Whitman Walker Clinic, Number 9 and Town Danceboutique.
In addition to New York, San Francisco and D.C., the discounts will apply to Atlanta, Baltimore, Boston, Charleston, Charlotte, Cincinnati, Cleveland, Tampa Bay, Toronto, New Orleans, Miami, Los Angeles and more.
Venues which the discount applies to include places such as The Stonewall Inn in New York and San Francisco's Harvey Milk Plaza.
In 2014, following the Supreme Court's ruling which effectively struck down California's Prop 8, Uber offered free weddings to 8 San Francisco couples during Pride. 
Last year, the company celebrated SOCTUS' striking down of gay marriage bans nationwide with an update to its app that featured rainbow flags attached to their car icons. 
Props to @Uber for their rainbow trails in the app. Subtle support for #LoveWins pic.twitter.com/aYWiWFX3PS

— Yeet (@TheJournalizer) June 26, 2015